It's no secret that Rome is a beautiful place to live. There is never a shortage of sights to see, things to learn, and places to explore. But Rome in the spring is particularly wonderful. If you find yourself in the Eternal City during this time of year, consider yourself lucky!
Here are 5 reasons you will absolutely love Spring in Rome:
1. The Weather
This might seem like a no-brainer, but the weather is definitely a top reason to love living in Rome in the spring. It's warmer than fall, but cooler than summer, and once you get into April, the rainy days slowly fade away. Your average day will be sunny, with a slight chill in the air, especially in the early morning or evening… perfect for enjoying an afternoon cup of coffee at an outdoor café, or for studying on one of John Cabot University's many rooftop terraces. But most of all, the weather will pull you outside each and every day and motivate you to explore this beautiful city you call home.
2. The Flowers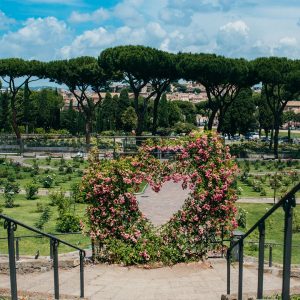 As you go out and explore the city, you won't have to get very far before noticing the gorgeous flowers blooming everywhere. Even on a simple stroll to class along the side streets of Trastevere, you will be in awe of the many colors, sizes, and smells of bright blossoms. Pink bougainvillea, white cherry blossoms, and multicolored hanging geraniums are only a few examples of these. When you get a free afternoon, make sure to check out some spring roses in one of Rome's best kept secrets, the Rose Garden. You should also definitely visit the Giardino degli Aranci (Orange Garden) in Aventino, and stop by the famous "keyhole" while you're there.
3. The Food
If you've spent any time in Italy, you will know how important food is to the local culture. One great part about fresh food in Rome is that different produce, specialties, and recipes come out at different times of the year. For example, you will see a lot more artichokes in the springtime. These seasonal specialties are one of the many reasons to love spring in Rome. Another benefit that comes with warmer weather is gelato! Spring is the perfect time to grab a scoop or two at your favorite gelateria and sit outside on the steps of a beautiful fountain or in the nearest piazza.
4. Less Tourists
Studying at John Cabot means becoming a "local" in Rome. And sometimes the crowds and crowds of tourists can be a little annoying to locals who are just trying to live their daily lives. It can be a nice breath of fresh air when the crowds die down a little bit. Early spring is still off-season for tourists, which means the streets will seem a little bit wider, and you will have a little more peace and quiet when walking around town. Enjoy!
5. The Parks
While the many gorgeous parks are wonderful during any time of the year, Rome's outdoor havens are best in the spring! Now that the weather has fully warmed up, and the flowers are in bloom, it's the perfect season to grab some food, a good book, some friends, and go have a picnic in the park. Head over to Villa Pamphili for a more natural oasis, or spend the day in Villa Borghese overlooking the city and riding bikes along the many pathways. Whatever you choose, be sure to take full advantage of the parks during this beautiful season.