Spring can be a strange time of year: unpredictable weather, rising temperatures, pollen flying around – but it's also one of the most beautiful seasons, thanks to the rebirth of nature with its vivid colors. Here in Rome, one of the best places to celebrate spring is the Municipal Rose Garden (Roseto Comunale) on the Aventine Hill. Located just a stone's throw from John Cabot University, in front of the Circus Maximus and the Palatine Hill, the garden offers a completely different kind of beauty compared to the historical monuments in front it. But once you see the two together, they merge in a triumph of beauty.
The Rose Garden opens for less than two months each year, just enough time to allow everyone to enjoy its landscape, scents, and colors. This year the garden opened on April 21, Rome's birthday, and will close on June 17. It's open from 8:30am until 7:30pm and the entry is free! In the garden there are more than 1000 different varieties of roses coming from all over the world, creating a great spectacle for your senses.
The history behind the garden is interesting: more than 2000 years ago, the temple of Flora stood on the very same hill and every year starting on April 28, Romans used to celebrate the goddess of spring. Much later, in 1645, the same spot became a Jewish cemetery, until it was transferred to the monumental Verano cemetery in 1895. The Rose Garden itself was first founded in 1932 on Colle Oppio Hill, next to the Colosseum, but it was destroyed and shut down during World War II. In 1950, the Rose Garden, with the authorization of Rome's Jewish community, was opened again where we see it now. As a reference to its past, the garden is shaped like a menorah, with roses growing and thriving next to the path.
The Rose Garden is a wonderful place to visit during spring in Rome; after all, how many rose gardens are in front of ancient Roman ruins? Moreover, continue farther up the Aventine Hill and you'll find other beautiful spots that must be visited, like the Orange Garden with its spectacular view, or the "secret" Aventine keyhole view looking onto the dome of St. Peter's.
Let us know what other places in Rome you find beautiful during spring on our Instagram Page; we would love to know what you love about this amazing season!
---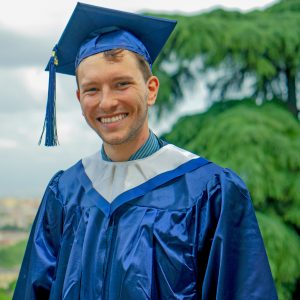 Matteo Louis Casling
Class of 2018
Communications Major
Grew up in The United Kingdom and Italy