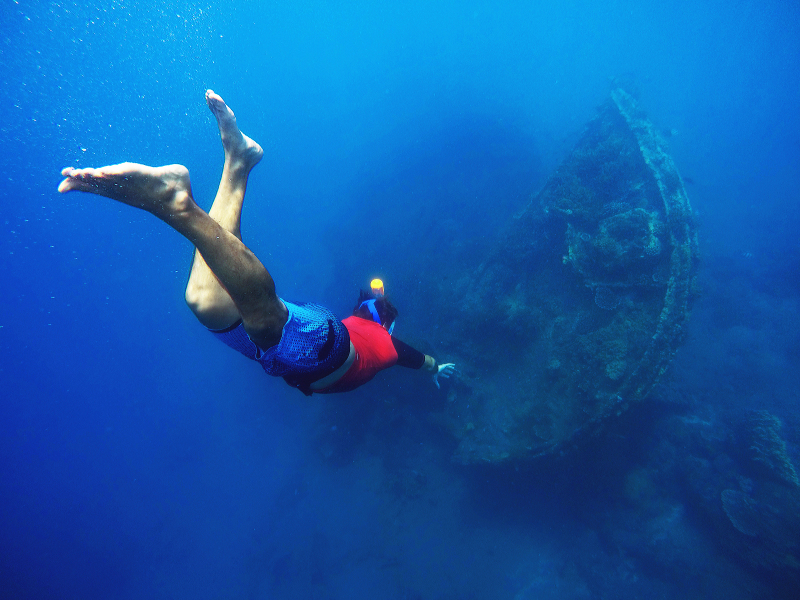 Have you heard of underwater archaeology? Ancient shipwrecks, buried treasures, and the lost city of Atlantis are some of pop culture's favorite examples of this field. In Italy, many spectacular underwater wonders aren't lost at all. They're found, studied, and explored by curious people like you.
If you take the opportunity to study abroad in Italy, you'll get to enjoy quick access to some of the world's most fascinating historic relics. Rome itself is home to hundreds, which students at schools like John Cabot University (JCU) get to see firsthand on a daily basis. When weekends come around and adventure calls, many of these students venture further afield to cities like Naples. That's where you can find the ancient sunken city of Baia.
Here's why we consider Baia a must-see site for those who study abroad:
You Can Dive in & Brush Up on Ancient History While You Study in Italy
For centuries, Baia was a prominent resort city for the Roman elite. It was built to cater to the rich and powerful, with spa-type recreational villas built atop the city's natural volcanic vents.
If you study history in Italy you'll develop a strong working knowledge of iconic historical figures like Nero, Cicero, and Julius Caesar. Each of these men are known to have visited Baia, taking in its natural coastal beauty and indulging in the city's hot springs (believed to have healing medicinal powers). Emperors Caligula and Hadrian built what historians call "vacation villas" on the city's shores and it served as inspiration for some of Ovid's famous love poetry.
In the 8th century, the luxurious and beautiful Baia was sacked by invading Saracens. By 1500, the city's remains had been emptied and abandoned. This was due in part to rising water levels – which encroached through the same volcanic vents that were once the city's main attractions. Over time, most of Baia's ancient ruins were drowned in the waters of the Neapolitan bay from which the city takes its name.
Students of Italy's Art History Schools Visit Baia in Artistic Appreciation
In 2002, Baia's underwater ruins were officially named as one of Italy's national archaeological parks. Today the park's reputation draws travelers and divers from all over the world. It's known to be both beautiful and accessible, with many of its relics submerged just 15 feet below the water's surface.
Students at Rome's art history schools gain even more enriched experiences from excursions to Baia. If you're interested in art, design, and art history, consider exploring the architecture of the historic underwater tunnels and picturesque Temple of Venus.
The city's statuary is amazingly preserved. Mossy ruins are visible via guided glass-bottomed boat tours and scuba-diving expeditions. Visitors can swim amid the crumbling statuary, stepping with flippered feet upon the very mosaics that once plastered ancient bathhouse floors.
Travelers Can Take Relaxing Study Breaks among Baia's Vibrant Aquatic Life
Studying at an American university in Rome can be hard work! Thankfully, students can relax by taking a trip to one of Italy's breathtaking beachside landscapes.
Baia's sea life is as notable as its ancient relics. Students visiting Baia can enjoy world-class seafood whose rich taste rivals that of any gourmet kitchen! Don't miss the region's famous fish soup cooked with Poseidonia algae from the salty thermal springs.
You can also see this sea life in action when you explore the underwater city yourself. Take a sneak peek of Baia's captivating sea creatures with this video captured by Italian diver Carmelo Frusciano:
youtube https://www.youtube.com/watch?v=ZKKn_V8OvRM&w=560&h=315
In this ancient site of long-lost cultures, there are countless underwater wonders to discover.
Would you like to explore ancient relics when you study in Italy?
Visit JCU to start your own study-abroad adventure.