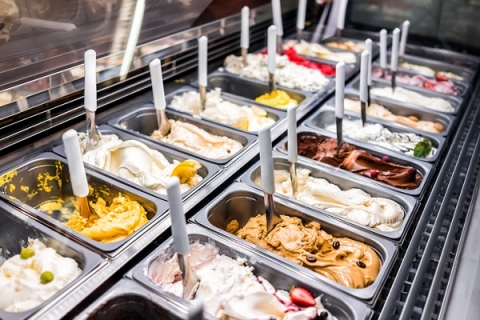 Eating gelato in Italy is a must, but where can you get the best of the best? While there are a great many places where you can get this delicious and distinctly Italian twist on ice cream, how do you know which kinds of gelato are the best and most authentic?
You might not be able to know right off the bat which gelato is the cream of the crop, but this article can help you along. Here are some tips for how you can get your gelato fix between classes while studying in Rome!
Make Sure the Gelato Always Contains Natural and Fresh Ingredients
Although very few gelaterias in Rome reportedly have all-natural ingredients, they are still considered a major component—if not a requirement—of high-quality gelato. For example, steer clear of gelato that contains artificial flavors and/or vegetable oils, and especially avoid gelato where the list of ingredients is hard to find or if the gelateria is not transparent about what goes into their product. This is particularly because all gelato shops in Italy are required to show the ingredients they use (and many shops take pride in what they put in their gelato), so you'll be able to tell just how natural and/or fresh the gelato really is while you're studying at universities in Italy and need a break for a sweet treat.
Another One of the Keys to Great Gelato Is in its Presentation—or Lack Thereof
Believe it or not, quality gelato can be found in part through its presentation and what container it's in. If you want the ideal scenario as far as containers go, look for gelato found in flat, round metal tins rather than plastic tubs. If the tins have lids on them, even better, because it indicates that the gelato is being kept at the appropriate temperature, not to mention it shows that the presentation itself isn't flashy—which can indicate that the quality of the gelato speaks for itself. If the gelato has a strong enough reputation, there'll be no need for an overly fancy or colorful-looking storefront or container to attract customers with—word-of-mouth will do the job just fine.
Another Tip for Eating Gelato: Be Sure it's Authentic!
Your time at a Rome university isn't complete without trying the local gelato, but also make sure it's as authentic as possible, and not just with regards to the ingredients they use. For example, signs that say gelato artigianale (artisanal), gelato in casa (homemade), or fatto in casa (made in house) can indicate their authenticity, though keep in mind that some gelaterias will falsely advertise this. Furthermore, the colors of the gelato and/or its ingredients can sometimes give away how legitimate the flavors are: if banana gelato is bright yellow, it may not be the real thing since bananas are not typically that shade. In any case, high-quality gelato will have little to no added coloring due to how many natural ingredients are already present. Here are some great spots to try right near campus!
Looking to experience Italian culture and cuisine at an American university in Italy?
Contact John Cabot University for more information!