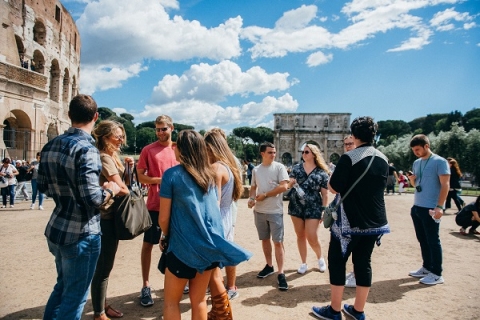 Are you thinking about studying in Italy this summer? Tempted by the delicious food, Italian culture, and the possibility of European travel? Studying at an American institution like John Cabot University (JCU) in Rome is an excellent way to learn new life skills, meet new people, and enhance your resume. JCU's summer sessions provide an affordable, short-term study abroad solution for students around the world looking to graduate on time and set themselves apart in the job market.
The city of Rome has a lot to offer international students, especially during the summer months. Read on to discover why a summer at JCU could be your best summer yet.
Rome Has Something to Inspire Every Student
Whether your passion is history and the arts, or math and engineering, the city of Rome will have something to inspire you when you study abroad. At JCU, students can choose to take summer courses in creative writing and literary translation, business, psychology, STEM courses in engineering and mathematics, and much more.
Young aspiring engineers will be able to admire some of the earliest and most impressive feats of engineering by the Ancient Romans, such as the Colosseum and the impressive network of aqueducts and bridges that are still standing today.
Similarly, budding writers will be able to escape the heat and visit some of the most beautiful libraries in the world, including the Angelica Library—the first public library created in Europe. The romantic streets of Rome also make the perfect backdrop for any story. Rome's history and architecture can help cure even the most stubborn writer's block!
Food, Food, and More Food
Paradise can be found on a plate in Rome. From the pizza to the pasta, the gelato to the cannolis, Italy is famous for its cuisine, and there is no better way to enjoy it than on a terrace with friends on a warm summer evening.
Food is more than just fuel when you're studying in Rome; it is a lifestyle and an important part of the culture. Italians are famous for passing several hours together at the table over a meal. When you study at JCU, try cooking together with your roommates and enjoying a long dinner together spent talking and sharing about where you are from.
This appreciation for Italian food will stay with you long after you return from a summer spent in Italy.
Explore the City's Cultural Landmarks
Classes at JCU are from Monday to Thursday, so students will have plenty of time to explore all that the city has to offer. Rome is famous for its many cultural landmarks which attract tourists from all over the world.
As a student in the city, you'll have the opportunity to visit famous Roman sights like the Trevi Fountain and the Spanish Steps as many times as you please.
Make Friends for Life from Around the World
A summer studying in Rome is a great opportunity to make long-lasting friendships with other students from across the world. JCU is home to students from more than 80 countries, and so students won't just be learning about Italian culture. You will be able to learn from students from all four corners of the world.
Do you want to find out more about spending the summer at a Rome University?
Contact John Cabot University to find out more!