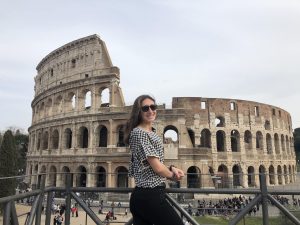 When I was applying to colleges, I knew I wanted to study abroad during my undergraduate, so I looked for schools with good study abroad opportunities. As my family is Italian and I took Italian classes all throughout middle and high school, I knew I wanted to study abroad in Italy specifically. When I found out my college, Sacred Heart University, had a partnership with John Cabot University, I knew it was the perfect choice.
Choosing my classes
I didn't take any classes for my major in Social Work at John Cabot. Instead, I took electives like "Drawing – Rome Sketchbook," "Ancient Rome and Its Monuments," and "Western Civilization and Philosophy" to fulfill requirements for graduation. The professors all spoke English and were willing to help in any way.
Getting to the campuses was super simple. The classrooms were not out of the ordinary, and the library and study areas were gorgeous. Taking on-site classes was my best decision! I not only got to take classes and earn credits, but I also got to explore the beautiful city of Rome at the same time. Yes, I had tests and homework, but I was able to have it all completed and handed in by the due dates and still explore Europe.
JCU housing and life in Italy
I went random on the roommate search when applying for JCU, so I knew I would not know my roommate ahead of time. Prior to going abroad, I had lived with the same girl since freshman year, so this was a big change for me. When I got to my apartment in the Gianicolo Residence, I examined the cute apartment that would be my home for the next four months. I picked a room, put my stuff down, and freshened up. One of my roommates who had arrived before me came back into the apartment and said I should move into the room where her stuff was, so I did, and the rest was history. Emma became my roommate, best friend, and travel buddy all in that room. I even visited her at school this past fall! She is a friend I made abroad that I will be friends with even when we're old and grey, still reminiscing on our adventures together.
Living in Italy was a different world than here in America. I walked everywhere, which I loved. Food shopping was so nice, even if it was in Italian. I got used to air drying all of my clothes. I cooked for myself in my apartment most nights, so I really felt invested in the Italian culture in the kitchen. Eating out though was incredible. Restaurants are so much cheaper than in America, the portions are larger, and the food is so delicious. Walking on the cobblestone felt like second nature after a few weeks. Being aware of mopeds and cars speeding around the corner wouldn't even cause me to bat an eye after a while. I loved having my morning cappuccino without sugar. I was living in Italy, I was a local for those amazing four months.
Words of wisdom from a study abroad alumna
Some advice for future JCU study abroad students:
Stay in Rome some weekends. Yes, travel, but don't miss out on your beautiful city that you get to call home!
Have a gelato every day. I promise, you'll burn it off from walking.
The "nasones" (water fountains found around Rome) are your best friend.
Most of all, have the time of your life. You only get to do this once.
Learn more about studying abroad at John Cabot University in Rome!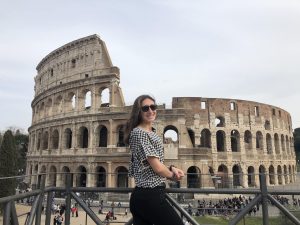 Courtney Cardona
Social Work Major
Sacred Heart University – Study Abroad Spring 2019
Hometown: Wantagh, New York