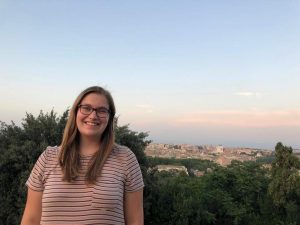 I had always wanted to study abroad. I had heard so many amazing things about the experience from my family and friends who had done it. However, because I was trying to fit so much into my time in college, I didn't think my schedule would allow it.
When I started doing research to see if there was a way I could make it work, I discovered John Cabot University's summer session option. They offered a huge selection of classes that I was interested in, that I felt would also contribute to my experience in Rome as well as counting towards my degrees.
Academics at JCU – More than Meeting Graduation Requirements
I signed up for four classes–two in each of JCU's five-week summer sessions–that I couldn't take anywhere else in the world. When I was registering for these classes, I honestly thought they were just a way to fulfill art history electives for my art major. Instead, as I met the professors and started being led around the city, I developed a passion for the history that we were studying.
My favorites were definitely my on-site classes. In her courseAncient Rome and its Monuments, Professor Crispin Corrado would literally make ancient history come to life by telling us the stories of Roman emperors like Trajan and Commodus and about the assassination of Julius Caesar–the site of which is now a cat sanctuary that I walked past almost every day, fun fact. She also had a bunch of amazing recommendations for places to visit outside of class, like the Domus Aurea (Roman Golden House) and the light shows in the Imperial Forums.
In Renaissance Rome and Its Monuments, in addition to taking us to see churches, frescos, and sculptures, Professor Anna Tuck-Scala taught us about shady early art historians and how rivalries between artists like Michelangelo and Bramante affected the construction of Saint Peter's Basilica. She also went out of the her in class to show us important places that weren't from the Renaissance Period, such as the Church of San Clemente and where you can go for the best cheesecake in Rome (at a café in the cloister of Santa Maria della Pace).
Traveling and Experiencing Italy
In addition to academics, studying in Rome offered incredible opportunities to travel to other places both in Italy and around Europe. I went to Venice, Capri, Pompeii, Pisa, and Florence (four times) and was able to spend time in Denmark, Greece, and Sweden.
My travels were extra fun because I was able to go with both new friends that I made at JCU and some of my friends from home. I had two friends and one of my sisters come to visit me during my time in Rome, and it was really exciting getting to show them around the city. I got to take them to historical sites I had visited with my classes and to my favorite gelato shops and restaurants.

One of the Best Experiences of my Life
Studying abroad in Rome was genuinely one of the best experiences I have ever had. At John Cabot University, I was living in the heart of the city, surrounded by history, architecture, art, and life-changing food. It inspired a love for history and art history that I hadn't had before. It also definitely gave me the travel bug. All I want to do is go see more beautiful things around the world.
I hope in the future I will have the opportunity to travel again and come back to Rome to revisit all the wonderful experiences I had during my time abroad.
Katherine Baldwin
Economics and Art major; Film and Screen Studies and Arts and Entertainment Management minor
Pace University – Study Abroad Summer 2019
Hometown: Westborough, Massachusetts