If you're heading to Rome for study abroad, check out my 14 top tips for surviving the city and my list of not-to-miss spots in the city!
1. Conad, Carrefour, and Coop are the main grocery stores in the Trastevere area.
2. Do not wear white shoes like Converse or Keds, or shoes that can be easily scuffed, because the cobblestone will ruin them no matter how hard you try to keep them clean.
3. Bring a refillable water bottle! The tap water is perfectly drinkable and you can fill up at the spigots (nasoni) throughout the city.
4. Pickpocketing is a real thing! BE CAREFUL. Ladies, bring a cross body bag with a metal chain (so no one can cut the strap off) and always have it hanging in front of you.
5. Don't let taxi drivers rip you off. There is a flat rate when using a taxi to and from the airport (48 euro-Fiumicino and 30 euro-Ciampino).
6. You cannot wave down a taxi. You must walk to a taxi stand, call, or download the app "it Taxi" to order one.
7. Don't think you can always rely on your credit cards. You can use them in bigger stores and restaurants, but you'll also run into smaller places that only accept cash.
8. ItaliaRail, Trenitalia, and ItaloTreno are the websites to check for train tickets – easy and cheap!
9. Santa Marinella is the ideal beach to visit for a day trip from Rome (1- hour train ride for €8 round trip from Trastevere train station, close to JCU!).
10. Mail anything you need to mail at the Vatican City post office. It is more expensive but more reliable than the Italian postal system.
11. When with a big group of friends, head to Hostaria del Moro (better known as Tony's) in Trastevere. For about €20 each, you will receive multiple appetizer plates, two types of pasta, chicken parmesan, tiramisu, and endless wine.
12. Don't buy gelato where the gelato is piled up high or the color looks very bright. These aren't true homemade gelato! A good reference is to look at the banana gelato: if it's bright yellow, it's fake.
13. Also, don't buy gelato where they charge you more than €2 or 2.50 for a small cup or cone. They're ripping you off.
14. People claim you can buy whatever hygiene products you use at home in Italy but if you don't like Dove or Herbal Essence (pretty much the only two options), bring your own.
And if you're here for just a semester or a summer session, make sure you don't miss my favorite spots in the Eternal City and close to JCU:

Spanish Steps: they just finished renovating them and they're gorgeous!
Via del Corso: the best (affordable) shopping street in the historic center.
Vatican City: Entrance is free for St. Peter's Basilica, but knees and shoulders must be covered. You must pay to enter the museum and the Sistine Chapel.
Colosseum: Go early in the morning if you don't want to wait hours to get in.
Roman Forum: The ticket to the Colosseum includes the Roman Forum, which is right next to it – do not miss!
Trevi Fountain: also recently renovated and astounding!
Pantheon: Make sure you also go inside and view the beautiful architecture from up close.
Frigidarium: Yes, gelato is right up there with the most important sights in Rome. This place is rated the #1 gelato place in Rome by TripAdvisor. It's true – I've tried it!
Trastevere: Home to JCU, and one of Rome's oldest and most picturesque neighborhoods. This is the best area for dinner and drinks, with a real Italian atmosphere.
Check out my blog about Rome here.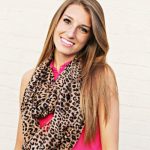 Kristi Dobreff
Marketing Major
Grand Valley State University – Study Abroad Summer I 2016
Hometown: Harrison Township, Michigan