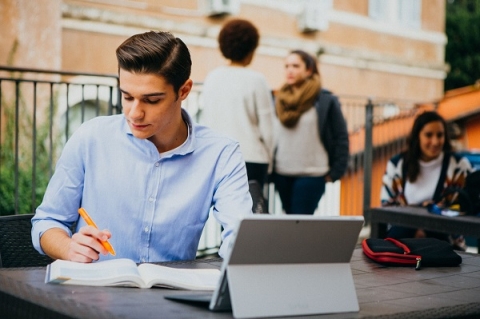 Studying abroad in Rome is an amazing opportunity. Not only will you earn credits toward your degree, you'll also be living in one of the world's most beautiful cities. At times, however, you may be wondering how you'll be able to keep up with your coursework while also seeing as many of the sights as possible.
For that reason, time management is an important skill to master for anybody interested in studying abroad. The good news is that John Cabot University offers a number of services to help you make the most of your time. Check out these three time management tips for when you're studying in Rome.
1. Plan Your Days in Advance So That You Can Do Everything You Want to Do
When you study abroad, it can be very tempting to think that you're on an extended vacation. That's understandable given your impressive surroundings and how much there is to see and do. However, it's important to remember that you are also in Rome to learn, which means you should develop a system for prioritizing your coursework.
A good way to do this is to establish a schedule and stick with it. You may, for example, want to set aside blocks of time in the morning and early afternoons for studying. This can be helped by choosing courses we offer that start earlier in the day. That way you can enjoy the rest of your day exploring Rome without worrying about unfinished coursework. A day planner can make organizing your time and prioritizing your studies much easier.
2. Onsite Learning Gives You the Chance to Combine Studying and Sightseeing
Sometimes the best way to manage sightseeing and studying is by combining the two. You can do just that during your study abroad program at JCU with on-site classes, which are taught at some of Rome's most amazing sights. If you plan on studying a subject like classical architecture, for example, you can be educated by simply visiting the buildings that you'd otherwise see only in textbooks.
For example, in the Ancient Rome and its Monuments course at JCU, classes are held at some of the city's most iconic monuments, like Trajan's Column and the Baths of Caracalla. You could also take a drawing course and learn about perspectives by sketching the Roman Forum. With on-site classes, you're making the most of your time for both study and travels.
3. Trips and Activities During Your Study Abroad Program Allow You to See More in Less Time
While exploring Italy by yourself has its advantages, one drawback is that you may end up wasting time figuring out where to go or how to get around. You can solve that issue when you study abroad in Rome by enrolling in our trips and activities. You can enjoy a weekend trip to destinations like the Amalfi Coast, Pompeii, or Venice, where we'll take care of arranging accommodation, transportation, guided tours, and more so that you don't have to.
You might also want to participate in activities like pizza-making classes or trekking in the Umbrian countryside. These trips and activities are an excellent way to experience as much of Italy's culture and sights as possible in a relatively short period of time.
Are you ready to study abroad?
Contact John Cabot University to learn more about our programs.