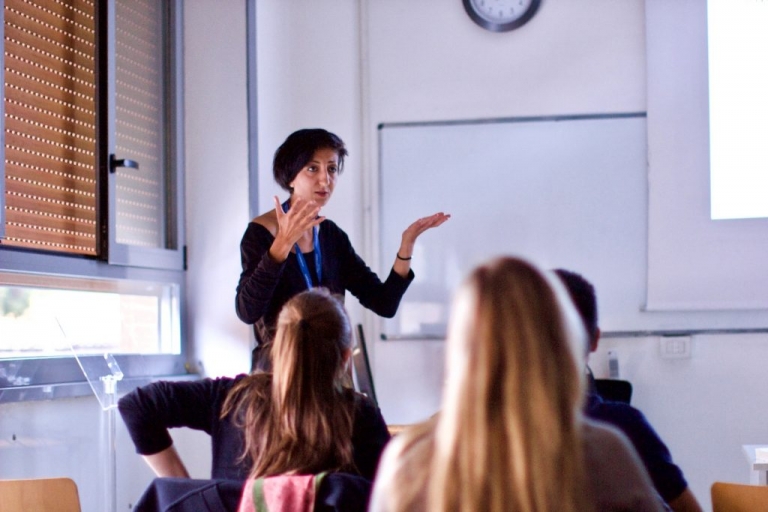 Studying in Italy is an exciting experience that stimulates the mind in a variety of ways. One of the ways John Cabot University assists in this is by having exceptional faculty who are experts in their field.
JCU has courses available for study abroad and degree-seeking students in subjects such as the arts, the humanities, math, communications, business, and social sciences. Within these disciplines, students can engage with professors who are masters of their craft. This makes for an interesting and mentally invigorating educational experience. Read on to find out about a few JCU professors and where their research interests have led them. 
Political Science and International Affairs Professor Eszter Salgó
Eszter Salgó has published texts before, notably writing a book on how nostalgia plays into politics, and another on the intersection of aesthetics and European Union Politics. This year, another interesting multi-disciplinary exploration was released with Spirituality and Black Feminism in Simone Leigh's Public Art. Published in Italian by Postmedia Books, the text explores a large bronze bust sculpted by the renowned artist Simone Leigh. Titled Brick House, the sculpture is located on a section of New York's High Line. 
Salgó draws on urban studies, architecture, critical theory, postcolonial studies, art history, and more to analyze the artwork and address the social problems related to the use of art in gentrification. This cross-disciplinary, richly intersectional approach is what renders Salgó invaluable as a lecturer at our university in Italy. She's been a lecturer in political science and international affairs since 2016, and in her position she draws on her history of research in the subjects of world politics, identity politics, the European Union, international organizations, and more. 
Barbara Sveva Magnanelli, Accounting Professor at John Cabot University in Italy  
A lecturer at our English language university in Italy, Barbara Sveva Magnanelli drew on her accounting and management expertise in writing for the Journal of International Accounting Research. Her article was published in the spring 2020 volume, co-authored with two other professors from two different Italian universities, Luigi Nasta of LUISS Guido Carli University and Elisa Raoli of the Catholic University of the Sacred Heart.
This article explored how the presence of female directors on corporate boards impacts the performance of family firms. Between 2011 and 2016, 165 different Italian firms were analyzed. This was the period in which a gender quota law was implemented in Italy, and many researchers were curious as to how performance would be impacted. Magnanelli and her colleagues' research uncovered a generally positive correlation between women's presence and firm performance. At JCU, Magnanelli is an assistant professor of accounting and management, where she teaches on subjects such as financial reporting, managerial accounting, and corporate governance. 
Professor Chloé Barreau, Communicators Professor in Italy 
Sometimes, professors will cross boundaries with their projects, placing their research interests into formats less expected. That was the case with John Cabot University professor Chloé Barreau, who early in 2020 launched a semi-autobiographical podcast. The podcast spanned four episodes and aired on the Italian public radio broadcaster RAI Radio 3 in January of 2020. 
Called Stardust Memories, the podcast refers to Barreau's own experiences as a lense through which to discuss the lives of Roman locals in the neighborhood of Trastevere during the beginning of the 21st century. The central motif of the narrative is a popular bar named Stardust, a device which is used to build a discussion around the social lives of expats before the digital revolution.
At JCU, Barreau is a lecturer in communications, where she examines promotional videos. Barreau is also an experienced freelance creative producer, writer, and filmmaker. She's skilled in the subjects of on-air promotion and branding, having worked with companies such as National Geographic and Fox Channels Italy. 
Do you want to study abroad at one of the premier American colleges in Italy? 
Contact John Cabot University for more information!