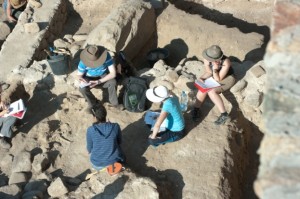 While engaging in classroom debate is indeed an enriching and integral part of university life – nothing beats getting a hands-on learning experience off campus. And one of the huge advantages of attending an American university in Rome is the proximity of amazing things to do and learn outside the classroom.
If you have a passion for history and a love of archaeology, think about the possibilities offered by  study abroad in Italy. At John Cabot University, you also have  the opportunity to participate in a special collaboration with the Alberese Archaeological Field School in Tuscany.
Throughout 2014, the Field School hosted three fantastic courses, on-location at the Port of Rusellae excavation. These projects typically run from 2-4 weeks in length, are wonderfully immersive, and can earn John Cabot University students three course credits toward their academic program.
Check out this year's Field School projects:
Project 1: Archaeological Excavation and Methodology
Coming up this July, twelve participants in the Excavation and Methodology Field School project will travel to the Roman river port of Rusellae, near the modern city of Grosseto. The group is made up of study abroad students, early career scholars and archaeology enthusiasts – and although some may be more experienced than others, they all share an equal passion for archaeology.
At the Rusellae site, the team will participate in a real dig, learning the principles and techniques of excavation from experts while helping to uncover an exceptional archaeological find. The project is focused on an ancient site of artisanal production and exchange, although students will also visit nearby digs and museums to enhance their contextual understanding of the location's historical significance.
Project 2: Field School in Material Culture Studies
On June 16th, another team of Field School participants travelled to the Rusellae site to get a closer look at some of its excavated finds. This particular project trains students in the fundamentals of material analysis – how to handle, clean, identify, conserve and catalog items from the ancient artisanal workshops. Expert-led seminars and workshops helped students differentiate between, and learn more about, materials such as bone, glass, metal, and ceramic.
Project 3: Field School in Magnetometry Survey
This special workshop ran for five days in January of 2014. Although it did not count toward academic credit, an elite group of five participants earned a certificate of participation while learning the latest in ground-based physical sensing techniques. And they had a chance to apply what they'd learned on-site at the Rusellae excavation, setting up grid and equipment, conducting a general topographic survey, and interpreting collected data.
Which Field School project will you apply for next season?