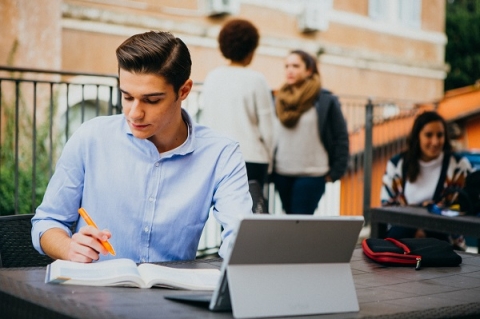 Studying abroad is a whirlwind experience full of new people, places, and information. Being prepared with strategies to study effectively will ensure that you can earn your credits and still have time to explore and connect to your surroundings. A strong study schedule will also ground you during your time away, giving you a structure to follow and keep on track. Rather than using methods that work for other people, here are some ways you can make choices based on your personal thinking style and concerns. Check out these tips for academic, social, and personal success while you study in Rome!
Remember to Block your Time when you Study Abroad
Have a solid idea of dates for exams, projects, assignments, and small tests. Be diligent about marking these into your schedule, and then block off study and work time to accomplish them. Remember to block time for breaks and free time as well. No one should study abroad in Italy without taking advantage of the tastes, sights, and sounds around them – it's probably a substantial part of the reason you're there!
The 80-20 rule is the idea that 80% of your success comes from 20% of the material. Determine which tests and assignments are worth most of your grade and schedule time for those first, then add in the rest. Some students like to block time for meals, rest, and exercise as well. Add as much detail to your schedule as you like – it's for you, so it should be personalized.
Use Study Methods that Work best for your Specific Thinking Style
If you are an extrovert, study groups work for some, or you can teach your subject to a friend – teaching others is one of the most effective ways of understanding information. Extroverts might also benefit from speaking aloud, reading passages, or summarizing out loud, even if they are alone.
For visual learners, use colors, diagrams, and written summaries to retain what you need to know. Flashcards are a great option, as they can be taken anywhere and kept in your bag or purse for quiet moments of review.
With taking breaks, everyone functions differently. Does physical activity energize you and help you sustain your focus through the next block of studying? Maybe a 10-minute meditation between the books will lower your stress and increase your concentration. Calling a friend or loved one helps some students feel encouraged when tackling assignments and studying.
Fight the Fear of Missing Out and Realize you can have it all at JCU
For some students, ideas can creep in while studying that they are missing out on other activities in exchange for schoolwork, otherwise known as the Fear of Missing Out (FOMO). While this is understandable, it's not accurate—staying on track with classes gives more opportunities for your American University Rome experience to have a perfect balance of adventure and academics.
Disengage from social media during study blocks and breaks. This keeps you from seeing photos or posts by other people who are doing different (not better) activities than you. You can also combine social time with study time, by having a study group or partner. A little company can be all it takes to realize you're in the right place at the right time. Even studying in public can have the same effect, surrounded by people at a cafe or library.
Are you interested in studying abroad in Rome?
Contact JCU for more information.