I'm not completely sure how to compress these four months at John Cabot University into a single post, but here goes nothing. Heading home after the fall semester is exciting, and saddening, and a myriad of other feelings, but a part of growing up is learning that experiences no longer come with a singular emotion. It's impossible to comprehend, after all the planning and anticipation, that this is now all part of my past.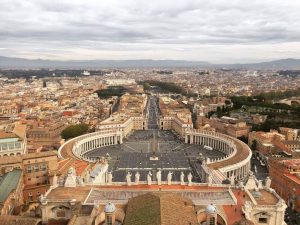 I've thought a lot about how I am going to tell people about my experiences. This story can lead to an infinite amount of endings. I can frame it to be the most romanticized coming-of-age story or the worst scathing review of the more awful aspects of Europe. I can talk about what I learned, what inspired me, where and what I recommend, or give a nonchalant, half-hearted "it was good!"
What I have come to realize is that my experience studying abroad was simply life. I have had the unbelievable chance to travel a part of the world brand new to me. Yet, that was my life. I went to school four days a week and regularly traveled the other three days. There were times I couldn't imagine life being better than a specific moment and others where I found myself feeling incredibly lonesome. I'd love to say studying abroad is everything I imagined it'd be, but it wasn't. It was still (somewhat) real life.
I went grocery shopping, studied in the library, went out at night, stressed over grades and my future, made new friends, and most of the same things that I would have done during those four months back at my home university. The only difference was location, but this difference came with so many new additions to my everyday life. The food, the language, the cultural backgrounds of friends and professors. Easy access to travel Europe, and monuments so old and rich in history that were around the corner from campus or a cheap plane ride away. But even this became part of my routine.
For as much as I missed home, my development has been tremendous. Have you ever had that internal feeling when you question yourself before doing something: that underlying "what will people think?" Because of the absence of that these past four months, being away from the people I know and my home culture, I have become so genuinely happy.
4,300 miles may be a stretch, but I do think it's really important to move away from home and do things on your own, at least for a short period of time. It's made me see things in a new light. I never thought I'd be an immigrant in my lifetime until I lived in Rome for four months. Because of my experiences I feel like I appreciate my family, my friends, my culture, and even my country more.
I traveled abroad searching for myself in faraway places and  among unknown people, only to find out who I am has always been within me. Although I'm not entirely sure in what ways I have grown during this journey, I know I have. I think I know more about myself and what I want in life than I previously did, which must mean I've grown in some way. Certain things don't matter as much as they once did, and other things matter more. This change has ultimately affected my relationships with people mostly. My family, friends, and acquaintances. So, I have to pose the question: is everyone meant to be in our lives forever? I've learnt how to be closer to my family than ever, and the value of friendships I've made all over the world.
I have very few regrets from my time in Europe. I'm not sure if that's just how I am, but even in life when looking back on the past, I don't have many regrets. I have learned to think with the perspective that your past is what makes you, you. I do recognize that I could have handled certain situations better, yet I feel that so long as I've been true to myself, I shouldn't be upset with the outcome. That's why perspective is important. Since everything didn't always go as planned, I found that being able to recognize what I had control over helped to make even the tough times manageable. In the words of Charles Swindell, "I am convinced life is 10% what happens to me and 90% of how I react to it." Refocusing my energy helped me cope with many things, be it homesickness, cultural adjustment, or just not making friends as quickly as I expected. And that change of mind has made all the difference. Metanoia. It turned hard times into lessons, and lessons into personal growth.
I'm glad I went out on a limb to do this alone. Studying abroad allowed me to find strength in independence, and encouragement in making new friends. I'd say the risk of doing this by myself has only heightened my experience. I hope that I will cherish these memories, this freedom, and all the people I've met for a lifetime. I loved my semester abroad for everything it was and all the things I didn't expect to gain from it. And as I write this, I can't help but become choked up. I feel joy from my experience, sadness in having to leave, happiness in returning to my family, and uncertainty for not knowing if I will be back or what lies next. Studying abroad alone has ultimately made me braver, and while I don't know what is to come, I feel more ready than ever.
"So, this is my life. And I want you to know that I am both happy and sad and I'm still trying to figure out how that could be." – Stephen Chbosky

Michael Zwaan
Pharmaceutical and Health Care Marketing major
St. Joseph's University – Study Abroad Fall 2016
Hometown: Malvern, Pennsylvania