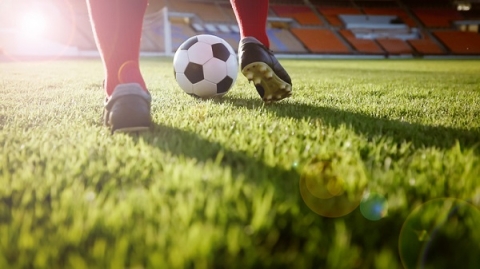 No, we aren't talking NFL here. Italy is one of the world's most footy-mad countries, and taking in its culture with regards to the sport is a must-do for anyone studying abroad in the country. In particular, Rome is an incredible city for any football fan to be in, whether to watch a match live, take one in at a restaurant, or even just to visit a stadium.
Whatever you end up doing, getting a true Italian footballing experience is easy to do in Rome, and there are many ways you can get it. Here's how football fans can use their experience studying in Rome to their full advantage.
Take in a Lazio or Roma Match at the Stadio Olimpico
No football fan experience in Rome is complete without attending a match at this historic, 70,000+ capacity stadium—a venue with an incredible atmosphere that has hosted four Champions League (formerly European Cup) finals, as well as the 1990 FIFA World Cup final match. Watching a Serie A match between either of Rome's two major clubs—A.S. Roma or S.S. Lazio, who alternate use of the pitch week to week—is a fantastic experience, as is a Champions League or Europa League match, where the clubs play against teams from elsewhere in Europe. Those studying at a Rome university can also try taking in a match between the two Roman clubs, known as the "Derby della Capitale"—one of Italy's fiercest, and most divided, footballing rivalries.
Attend Matches in Other Cities While Travelling Across Italy
Italy is as football-crazy as a country can get, and the culture is practically embedded into its national DNA. If you happen to be visiting other cities, you'd do well to visit stadiums and/or attend matches in those cities, as well. One great example is the San Siro in Milan. Home to both A.C. Milan and Internazionale, this stadium is Italy's largest—with a capacity of 80,000—and will be used for the 2026 Winter Olympics opening ceremony. If you're able to make the seven-hour trip, head up to Turin to watch a match involving Italy's most successful and widely-supported club, Juventus. If stadiums, such as the ones at the San Siro and Turin's Allianz Stadium, offer tours of the premises, this could also be an amazing alternative to actually seeing a match.
Consider Playing for JCU's Team While You Study Abroad in Rome
Are you just as passionate about playing soccer as you are about watching it? Then why not try out for John Cabot University's varsity soccer teams? For male students, JCU's soccer team competes in the Universities of Rome Championship, as students play against teams representing other institutions in the city while they study abroad in Rome. If you love playing five-a-side and are tired of playing it simply during intramural activities, there's also a 5vs5 team representing the school for both men and women, as those sides also compete in their own championship between Roman universities.
Want to study at an American university in Rome?
Contact John Cabot University for more info!