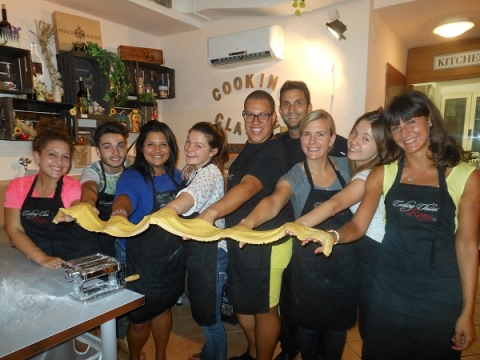 Studying abroad is all about expanding your mind and taking in new ideas and experiences. Sometimes, those new ideas will challenge your previously held beliefs. This is a great way to build character, personally develop, and let the benefits of broadening your horizons roll over into your studies and academic career.
You may meet people with perspectives you haven't heard before, see the world through new eyes as you interact with locals, or find out some things about Italian culture that you didn't know were true. When you explore Italian cuisine through cooking classes, you'll also learn a thing or two about food in Italy that might surprise you. Read on for some Italian food myths that will be debunked for you when you study in Rome!
The Myth of Fettucine Alfredo that JCU Students Know Isn't True
Fettucine Alfredo is a much-beloved dish found in many Italian restaurants in the United States. With a rich, creamy sauce, it's a comfort food that some visitors expect to find everywhere in Italy. The truth is, Fettucine Alfredo is not an Italian dish. There are similar sauces to Alfredo with a much lighter profile, such as melted butter and parmigiano cheese, often served with egg noodles or gnocchi. When you study abroad in Rome, you can opt for these dishes to get a taste of what an Italian palate prefers to the heavier American version called Alfredo.
You'll Know what real Italian Dressing Is when you Study in Italy
In North America, brands often market Italian dressing as a mixture of vegetable oil and vinegar, with salt, garlic, sugar, and a combination of herbs and spices that may contain dill, oregano, parsley, basil, and thyme. There are many ingredients that go into these dressings, and they are common staples in many American homes. In Italy, true Italian dressing uses minimal ingredients and consists of olive oil, vinegar, and salt, sometimes with the addition of pepper. The dressing is prepared fresh, rather than bought as a processed food item. Often, when you eat at Italian restaurants, you will be given oil and vinegar to compose your own salad dressing for your dish.
What You've Been Told about Garlic and Onions Isn't True
Many people think that to begin an Italian recipe, a mixture of onions and garlic should be sautéed in oil. In fact, a battuto—which is a combination of minced vegetables—is the basis and first step of many Italian dishes. The aromatic mixture is then sautéed, creating a soffritto. However, a classic battuto doesn't combine garlic and onions in traditional recipes. The most common mixture you will see is onions, carrot, and celery. While many American recipes call for sweating the onion gently as is done in Italian cooking, the addition of garlic is not traditional (however tasty it may be).
Ways that You Can Learn more about Italian Food at JCU
If you're looking to explore Italian cuisine when you study in Italy, you can take advantage of the cooking classes available at JCU. You will get the chance to learn recipes with an Italian chef, experiencing authentic food while picking up skills and immersing yourself in Italian culture. Classes take place in a real Italian restaurant. You can opt to make a 3 course meal, or take a pizza making class where you form the iconic Italian pies from scratch.
When you dine out and sample Roman cuisine, you'll have the knowledge to fully appreciate what goes into the delicious food near campus. You'll also have the skills to recreate some iconic Italian food when you return home—which offers a way to take your favorite new dishes with you.
Are you interested in studying abroad?
Contact JCU for more information.