110 days. To some, 110 days might seem like a lot, others might think it's just a couple of days. When you study abroad, though, you don't care about the number of days you have, but of what you can do with those days.
Studying abroad is about the experiences you create, experiences that will forever change you. It's not until you have two weeks left and you look back at everything you have done, everything you have seen, that you realize how much a semester abroad can change you. You don't notice how different you are until you reflect on the person you were when you first got off that plane. When you look in the mirror today, you actually see how much you have changed.
As I look back at my study abroad experience at John Cabot University now, I can honestly say it was not what I had expected. I saw myself traveling all around Europe. I wanted to go to Paris, Greece, London, Brussels, Germany… but in reality, I did not get to see any of these places.
Before coming here, I thought that I would be disappointed if I didn't get to visit all of these different locations. I came here thinking that if I didn't go to all the places I wanted to go to, my experience wouldn't be worthwhile, but I was wrong.
I didn't get to see all the places I wanted to see, but I still got the chance to see so many wonderful cities in Italy. I went to Tivoli, Pisa, Cinque Terre, Venice, Milan, Verona, Tuscany, and this weekend I will take my last trip to the beautiful city of Florence. Some of these places I even traveled to alone, something I would have never seen myself doing before studying abroad.
Living in Italy really made me an adventurous person because every time I had to make a decision I always asked myself the same question: When is the next time I will get this chance? This led me to buy a train ticket to a city I had never been to the day before. It taught me to feel comfortable asking random people to take pictures of me in the different cities, just so I could capture my moments there. I even found myself eating alone many times or taking night trains back home after a long day. Each and every one of these things, made me get to know myself better. Each experience taught me a little bit more about myself.
Now that my semester abroad is almost over, I can't help but think about all the great experiences I had while living in Rome. Getting used to having professors from all over the world and adapting to their different teaching methods, while learning so much. All the amazing pasta, gelato, and the cheap but great wine. Getting ready for all those early morning trains. Those are all things that I am going to miss. Most of all, though, I'm going to miss the people I got to share this experience with. On my 1st day I saw myself living with four roommates, a couple of days after, there were six of us living together in an apartment. It was scary. Now, I look back at all the experiences we shared together: getting a seventh roommate, not doing the dishes, arguing over the laundry machine and dryin
g racks, trying to cook three meals at the same time, eating each others' food, running to take twelve bags of trash in sweatpants at 11:00pm, signing along to Disney songs, dancing around, and so many more. I got to create friendships that will hopefully last far longer than 110 days.
During my semester abroad in Rome, I let life surprise me. I didn't get to travel to all the places I wanted to go, but adventure found me in its own way. So when I finally step on that plane on the 110th day, I will be completely aware of how wrong I was, because I can't imagine an experience more worthwhile than this.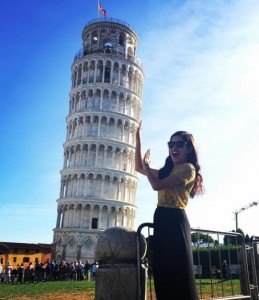 Natalia McCullough
Bentley University
Hometown: Ashtabula, Ohio
Study Abroad Fall 2015
Learn more about studying abroad in Rome at John Cabot University.