Ciao, y'all! Roman greetings from a Texan. My name is Jourdan Wilke and I am a study abroad student at John Cabot University in Rome, Italy this fall. My home school is Texas Tech University in the small, rural town of Lubbock, Texas where I am a senior finance and accounting major.
When I began my undergraduate career, I never considered studying abroad but always knew I never felt at home being in just one place. West Texas was no longer an ideal location when there was so much that I wanted to experience and explore. The more I got into business classes that stressed the importance of international relations, and the harder I was bitten by the early 20s travel bug, the more I needed to escape on an adventure.
After attending meetings and combing through brochures, I chose John Cabot because of its world-renowned reputation, small community atmosphere, and availability of business classes. Of course, living in Rome wasn't too far down the list of pros. Application accepted! Now what?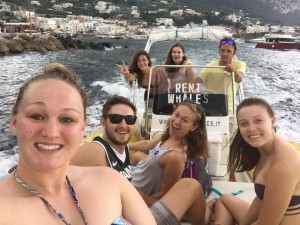 "This is crazy! Would I make friends? Geez, I have the worst luck with random roommates. Will I miss home? I don't speak Italian! A 9 hour plane ride? I'm shy. What do you mean there is no Starbucks? I wonder if the classes are hard. Exactly how many countries can I visit between September and December? I can drive a Vespa, right? Can gelato be considered a food group?"
 
These are just some of the thoughts I had before leaving home, and I hope to share the answers here as I live them. I have been in the Eternal City for about a month and I am already changed forever, but perhaps the biggest question I was not expecting to hit me so soon was: "What if I don't want to go back?" Yes, Rome is quickly becoming my new home, and not simply due to my address change.
Of course, getting used to a new city is tough…from not packing shorts for a city that is consistently 95 degrees and humid (oops, thanks for mailing those mom!), to walking into the wrong bathroom on the first day (also oops), to nursing blisters for weeks and navigating a "romantic" language barrier, it has been exhausting. However, these are all part of the experience and make for great stories later. Feel free to chuckle!

Part of those stories include my wonderful roommates to whom I must give credit for my survival. I was very lucky to be placed in the adorable and family-oriented neighborhood of Trastevere with 5 girls who come from all across the United States and share the same vigor for travel and new experiences as I do. These are friendships that will support me through this life-changing adventure and surely last a lifetime. Remind me to thank John Cabot for that someday. We are traveling almost every weekend, so I will be sharing those stories here as well, along with a few handy tips.
The first month has been a whirlwind, and I can't wait to see how the next three unfold.

Jourdan Wilke
Study Abroad Fall 2015
Finance & Accounting Double Major
Texas Tech University