It may sound as a cliché, yet it is an undeniable truth as my experience testifies. As far as I can remember, I have always loved art. It has been a very important part of my life: I spent 5 years studying art and design in one of the top schools in Ukraine as well as during high school in the U.S. Art inspires me, helps me grow and pushes me out of my comfort zone.
I am majoring in Marketing at John Cabot University and I am truly in love with it. However, it is art my inner drive, so I decided to combine both of my interests while studying at JCU. I took a graphic design class and completed a Brand&Identity Independent Study course with Prof. Schmidt that made me realize the importance of doing what you love. Last semester I had the chance to work for a wedding agency with the main task of designing a comprehensive brand identity. I have always dreamt of opening my own wedding agency, and developing a branding concept has been a great way to start making my dream come true. Prof. Schmidt guided me through every little step of the project giving me invaluable advice on how to improve my skills.
My primary objective was to create a unique brand that would provide prospective clients with an impeccable service where only "the sky is a limit".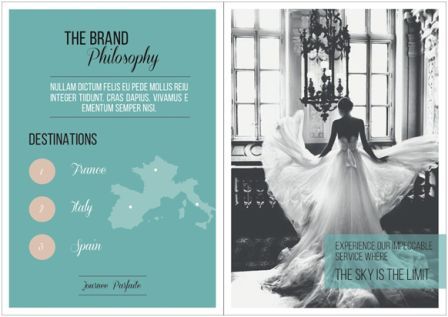 The first step of the project was to create a name and write a business plan, which turned out to be more challenging than I had imagined. You can have so many great ideas in your mind, but choosing something that would absolutely match your brand values is not easy. After much thinking, I decided for "Journée parfaite", French for a "Perfect Day" as it is a charming brand name with a strong evocative power of sense of love, deep feeling of trust and professionalism. The second step was to design the logo, the business cards, the office design and the corporate brochure to provide information about the agencies' services. Choosing mint and black as the company's colors was meant to reflect "Journée parfaite" brand values: romance, true love, and loyalty. I wanted to make something that receives the prospective client's attention for its "magnifique" look&feel without overpowering them.
Dedicating most of my free time to this project resulted into something I truly cherish and love. Something very simple, yet very elegant, time-lasting and recognizable. Taking the Brand&Identity course with Professor Schmidt has ultimately helped me master my skills in the visual design field, turning a passion into a career. I am continuously applying this knowledge to my internship tasks, marketing projects at JCU, and freelance design jobs.
I firmly believe that all of us have a gift. Once you find it, keep on mastering it. As Theodore Roosevelt once said "Far and away the best prize that life offers is the chance to work hard at work worth doing."
For the Italian version click here.