My name is Luigi (Gigi) Spaziani. I am 100% Italian but I grew up in Boston. I decided to do my study abroad year here in Italy, because I speak the language and my nonna still lives here. Even though I am Italian, I have never studied in Italy, so I thought it would be a great opportunity for me. Back in Boston I go to Suffolk University, and it offered partnerships with universities in Florence and Rome. I decided to do my exchange in Rome specifically at John Cabot University because my family lives nearby (in a village called Ceccano in the province of Frosinone), and it would be easier to see them during weekends.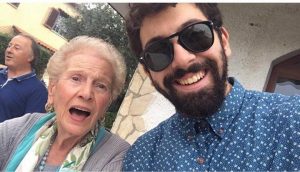 I really love it here! The other students are nice, classes are good, and the professors are very interesting! The classes I am taking at JCU are mostly Economics and Finance classes: Macroeconomics, Financial Accounting, and Business Law, plus an intermediate Italian class. My favorite professor is Chiara Magrini, my business law professor! My Italian professor, Gina Siddu Pilia, is also an excellent professor and makes the class very dynamic and interesting. I know what you're thinking: "He's Italian, and doesn't know Italian?!" I do know how to speak it; I'm just working on the grammar!
My university back home is diverse, but it's still different from here. At Suffolk you see mainly Americans and exchange students from the Middle East, Asia, and Spain. At John Cabot there are many Italians and Americans, but also lots of people from other countries and backgrounds. Here you have more contact with students from other parts of Europe and Asia. The student body is very international.
I've been making good use of my three-day weekends. When I don't go visit my relatives in Ceccano, I try to get some travelling in! I am going to Spain in a couple of weeks, then London and Amsterdam. I'll have plenty of time to travel next semester too, so I'm not rushing it too much. Right now, I want to focus on my classes so I get good grades, considering they'll be transferring back to my home university!
I've also made some great new friends. I think it's important to make local friends so I can build strong connections that I can maintain after I  leave – and have an excuse to come back and visit later! Besides, the memories I make with friends during my year here will last forever.
Aside from the awesome food and pretty girls, I really like that everyone is very friendly and it is very easy to travel to different places around Italy and Europe.
Let's just say that I am not disappointed. After all, I'm in Rome – it couldn't get any better! I will admit I can't wait to see my family back in Boston. However, I know that once I get there I'll miss so much about living in Rome. The whole thing is just an amazing opportunity I'm trying to live and enjoy day by day.
Read this post in Spanish here.

Luigi Spaziani
Study Abroad 2016-2017
Law and Finance double major
Suffolk University