Tonight was without a doubt my best night in Rome so far! John Cabot University does a really good job giving their students, especially their study abroad students, opportunities to sign up for tours, activities and trips through the school. Right when I arrived here I blindly signed up for an Italian cooking class offered through John Cabot. The
advertisement claimed that we would be working with an "Italian Chef" (Yes mom, a REAL Italian) in a restaurant. Because the program was offered through the school, I wasn't expecting to be blown away by the experience. I judged too quickly.
At 6:00 p.m the students signed up for the class all met on campus, and the chef met us there. The man in the white coat in my pictures, that's him. His name was Andrea, he spoke English, although it was very clear he was a true Italian man. He walked us to his "restaurant" and we sat down at the long table that was already set up. He explained what we were going to be cooking, how we would be doing it, and then introduced his adorable wife Erica, and their "Little Monster" 4-month old Mateo, wide-eyed and quiet, who was strapped to mommy's tummy in a baby sling. There was a group of 20 students from JCU, although Andrea admitted we were going to be making enough food for a group of 30, so everyone would have plenty to eat (for Italians, there is no such thing as too much pasta). We made bruschetta (pronounced Bru-Sket-Ah, which I learned by watching Chef Andrea cringe when he heard we Americans pronounce it according to its spelling), Cavatelli Pasta from scratch with fresh tomato sauce, and a lemon custard topped with strawberries.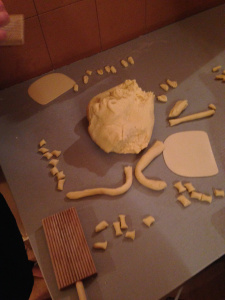 Because there were so many of us, we began by splitting up into two groups of ten. Ten people were put to work in the kitchen to get started on the bruschetta, the custard, and the tomato sauce. The other ten people (including me) started working on the pasta. Cavatelli is a simple pasta using semolina flour and water. Sounding too easy to be true we just began adding small amounts of water to the semolina flour to make the dough and we all took turns kneading it. Unlike pasta dough with egg or yeast, you can't really mess it up by over kneading or under-kneading. Once the dough was ready we were instructed by Erica to reach out to our inner child and made "play dough snakes" with the dough.Once we had our snakes we used dough cutter to chop the "snake" into little pieces, so that we could individually roll the pieces on a wooden board imprinted with a zigzag design using our thumb. With this being a long, tedious task we began making small talk with Erica, the chef's wife. Right away we knew she wasn't Italian because of her accent, and it turned out she was from Michigan! She came to Rome to study abroad, fell in love and never went back. In the middle of our ooh's and aah's over her romantic life she managed to tell us a little bit more about the Italian culture.
She talked to us about why Italian women can seem snobbish and unfriendly, (its all about competition for the few "good" Italian men) her adjustment to Italian life, and how long it has taken her to learn the language fluently. Once the skin on my thumb started to feel like it was going to peel off onto the wooden Cavatelli board along with my pasta I decided to take a break and step on into the kitchen where all of the action was. When I asked what I could do to help Andrea smiled, took my hand and led me through his little busy bee working students next to two boys who were chopping tomatoes. He said that the boys were doing an okay job, but sometimes the kitchen needed a woman's touch, smiled again,and with a wink walked away to check on how everybody else was doing with their tasks.
At the end of this long two hour process, Andrea and Erica invited us all to sit down again, and they served us the
meal we had just created. Now, I have had good pasta since I have been here, but this was not just good pasta. The texture, taste and freshness of this food was impeccable! We all ate until we could no longer stuff another morsel into our mouths, they thanked us, and we went on our way into the rainy Roman night.
With satisfied tummy's, the walk home was full of laughs about the people who burned the bread, or couldn't roll the pasta into the right shape, trying not to trip on the wet (and deathly slippery) cobblestone and an overarching sense of happiness. Maybe this place will start to feel like home after all.
Claire Donnelly
University of St. Thomas
JCU Study Abroad Fall 2014
Check out more of Claire's blog posts on her study abroad blog.