I've been at John Cabot University since Fall 2015, and it has been three semesters of glorious time spent in Rome. I'm among the few that can say I've lived in Rome, and not just for four months, but three times that. Full time for twelve months – I've lived in Rome for an entire year. I know to some people that may seem like nothing, but for a twenty-year-old, living a year abroad is a long time.
As a degree-seeking student, living in Rome is a special experience in itself. It is a time of making lifelong memories and of infectious laughter; a time of intense stress and of meeting and then sadly losing touch with many friends due to distance once our our time at JCU is over. However, we live in an age where we can remember, celebrate, and be reminded of all of these events no matter where we are.
In order to commemorate the life I've made in Rome, I'd like to share a few photos from the past year.
August 29, 2015 – Being a tourist
We had all arrived. Summer was stifling, and while it encouraged you to be out in the streets exploring, we also had to remain patient and keep out of the unbearable heat. Rome shone in its glory, and the first glimpse I caught of Piazza Venezia made me realize that I was walking the streets of kings and emperors. I was not even slightly doubtful of my decision to live in Rome and learn among such history. This was also the day I learned I could walk Rome in one day if I wanted. I saw so much that day. I went so far and suffered in the heat, but loved the day all the same.
September 9, 2015 – Heroes of Rome
. . . aren't always dead or mythological. Some are very present and very real. I saw this in many cases, such as the heroes in the streets wearing costumes or depicted by statues. I also had begun to learn that some heroes don't even have a recognizable name; in fact, they can be people you simply meet in a classroom. Costume and fancy name or not, I have met many inspiring people here at JCU, and, taking a word I've learned from the Americans here, I'd instead argue that they are "low-key" idols.
October 27, 2015 – Flawless architecture
Santa Maria, Navona, Pantheon, Ara Pacis. . . Excuse me while I bask in the ridiculous feats of beautiful marble manipulation and carving, buildings, and design. I can post many pictures for this, I really can, but it's best shown on the JCU Instagram page, where you are teased with them even at home during the breaks.
November 16, 2015 – Roma is stylish
When it begins to get cold, you really start seeing the most amazing outfits. True Romans wear a leather jacket and jeans even in mid-August, but the best styles, I've found, work their way to the streets when the cooler air starts setting in. Here you see the crazy coats, wonderful hats, and amazing shoes for braving the classic cobblestones of Rome.
February 14, 2016 – Museums are humbling
As you walk alongside the greats, you'll find Rome was made for kings and not for a foreign student and her friends; the museums here will make you feel very humble. There is so much to take advantage of, the history is so present and so well-maintained, it's a treasure trove for history lovers. Even those who do not fancy learning the history of a Luna marble bust can witness and breathe in the splendor of the city we've found ourselves in. It's a real joy to appreciate.
April 3, 2016 – Rome is a lot bigger than you are
And that's completely fine. Rome is supposed to open doors and offer sights so marvelous it's hard to comprehend or imagine what it once looked like. It's not supposed to be an easy city; no one really knows Rome through and through, honestly. Rome is very much alive, like a tough little old lady, showing no signs of giving up, rich in its memories and firm in its ways.
October 6, 2016 – The wait was worth it
We waited ages for the Spanish Steps to re-open after restoration; same with the Trevi fountain. I've been lucky to be here for the reopening of both of these and it was so worth it.
Four months at a time in Rome at JCU somehow pass both too quickly and too slowly; Rome makes you feel like everything is both fast and slow. The driving is fast and terrifying, but traffic is horrendous and often comes to a halt. Every conversation in Italian is quick and has flailing hands and exaggerated reactions, but walking behind a group of chatty Italians is awfully slow.
December 5, 2016 – The most important sights are close to home
Trastevere is our heart and Rome's heart. It is affectionately, R(h)ome. The campus is based here, and it is the place where JCU students spend most of their time during the semester, and develop the most love for. It's sometimes easy to forget our little Trastevere is connected to the big city, because it feels so different to the rest of Rome.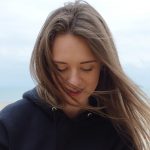 Bethany Anne Miller
Class of 2019
Classical Studies Major
Hometown: Shrewsbury, England