With so much history to explore, Rome is best visited on foot or bike.  Although the city is less bike-friendly than those in northern Europe, the intrepid biker will be in heaven with excursions both within the city's walls and a quick train ride into the surrounding region. There are several companies that offer inexpensive day bike rentals, allowing you to take advantage of many of these excellent trails.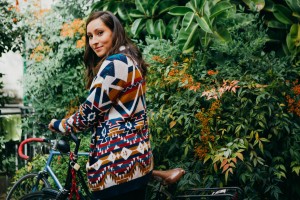 Here are some our favorite local biking trails:
The Lungotevere path along the Tiber River. Starting from Ponte Garibaldi, only a stone's throw from JCU's campus, you will find a 16 kilometer path that extends along the river through the north of the city. This path is excellent as it is exclusively for runners and bikers, meaning that you will not have to worry about cars and the majority of the path is newly paved. Along your route, you'll pass Castel Sant'Angelo, Rome's Olympic Stadium, several world-renowned bridges, and stretches of countryside that allow you to forget that you're in one of the world's most important cities.
Appia Antica. While the cobblestones certainly provide a bumpy ride, this path is unlike any other. Appia Antica has seen two thousand years of history, and served as the Roman Empire's road from Rome to southern Italy. You will bike along streets where the Roman army originally marched, and you will pass ruins simply out in the open. Begin at Porta San Sabastiano and ride out to Lago Gandolfo, where you can relax by the lake before turning back to the city.
Lago Bracciano. To take advantage of this route, you will want to take a train out to the city of Bracciano. Italy's main train company, Trenitalia, allows you to bring your bike onto certain train compartments for an additional fee, and from Bracciano you can explore the lake and its three surrounding towns. The area hosts an incredibly well-preserved castle, fantastic bars and restaurants, and lovely views of the lake and mountains.
Rome's seaside. From Ostiense station, take the train to Ostia beach and head out to explore Rome's beach towns. Ride north to Santa Marinella and then hop on the train back to Rome, or head south to Anzio and do the same. Both routes offer great restaurant and bar rest stops and fantastic views of the mediterranean.
Castelli Romani. The "Roman Castles" are towns surrounding Rome, and each offers its own unique flavor. You can either ride out to the castelli from Rome or take the train to Marino, Frascati, Lanuvio, Castel Gandolfo or Velletri, and plan a route that allows you to check out a couple of them and get a feel for life in the Roman suburbs.
While biking in Rome and its surrounding region is fantastic, safety needs to remain your main priority. Biking is becoming more popular in recent years, but you will find few bike lanes within the city. Be sure to test out your bike's breaks, bell, and lights, and we highly advise wearing a helmet.  If embarking on one of the excursions outside the city, we recommend getting a mountain bike that will do well on country roads and hills. If riding alongside the road, be sure to ride on the righthand side and be extra careful around cars.
Have a great ride!
Learn more about applying to study at John Cabot University.
Learn more about participating in sports and athletics at John Cabot University.