John Cabot University has many different clubs and organizations for every passion and interest. The Martial Arts Club, in collaboration with the JCU Athletics Department, caters to those interested in martial arts in particular. However, it is also a club that encourages those who love all kinds of exercise and want to learn more about different cultures and the sports that they practice.
Last Friday at 7AM a group gathered outside of Tiber campus, ready for the fifth JCU Martial Arts Camp. The group was bigger than ever with twenty-three participants, including one professor and two trainers. The group was very diverse, made up of Italians, Americans, Arabs, and Russians. Behind each tired face you could see the excitement everyone felt, as well as a bit of anxiety, because we all knew that the trip leader, El Cheikh Fares Cheikh Moussa, had an intense activity schedule planned for us. We boarded the bus and headed off to Lake Turano, a beautiful lake on the edge of the valley of Rieti, Italy, just an hour and a half drive from Rome.
We started our training straight off the bus with group exercise activities in an open field nearby. Fares added a bit of fun after warming up and we spent the morning running races, leap-frog jumping over each other's backs, and playing a giant game of tag. When the rain picked up from a drizzle to steady showers, we headed back to the hotel to eat. After lunch we hiked the steepest hill nearby. The rain didn't stop us this time; the view became more breathtaking every minute we continued up. By the time we got back to the hotel it was getting a bit dark, but we continued our exercise with some Muay Thai training outside. We worked on basic moves, since not everyone had trained before.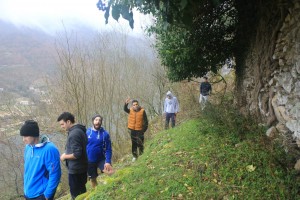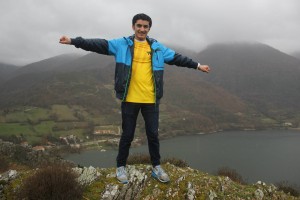 All that hard work in the rain was rewarded with time for hot showers, followed by an evening of relaxing fun. We played card games, foosball, and countless games of billiards, and despite the colder nighttime temperatures one of our wonderful trainers, Alessandro, fired up the grill for a barbeque. It also happened to be two of the camp participants' birthdays, and Fares surprised everyone by bringing out a cake for us to celebrate.
The camp was structured in a way that offered fun and entertainment for everyone, from those interested in martial arts, to those interested in trekking and contact with nature, to those interested mainly in authentic Italian food and discovering new places. In fact, sometimes we split into groups to focus on separate activities. For example, after the barbeque on the first night, a small group took a nighttime hike to explore the beautiful old town on the hill nearby.
The second day was spent mostly indoors, due to the on and off downpour outside. We had training sessions in self-defense and ground fighting. After lunch, a group of participants including Fares took the hotel's paddleboats out onto the lake. Through the chilly winds and heavy rain the group paddled to the opposite side of the lake and back, and Fares even jumped in the lake! I was definitely not a part of that group, opting to stay inside and warm my toes by the fire, but watching them out on the lake definitely looked like a good time!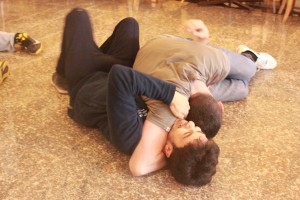 Overall, the camp was a great success, mainly because everyone had a positive and proactive attitude throughout each day. Everyone was prepared and excited to learn, and open to the multicultural interaction that is a wonderful part of every JCU sponsored trip. Sports have a long history of bringing cultures together, creating a positive and healthy environment that can be enjoyed by all. The Martial Arts Camp is definitely proof of this.
Gillian McMurray
Communications Major
JCU Class of 2016
Hometown: Chicago, Illinois