Since I was fourteen I knew I wanted to travel to Europe, Paris specifically, but I'd take Italy any day. I even put "study abroad" at the top of my bucket list. So when the chance to study in Rome came up, I could not resist. So it was Goodbye California, and Hello Rome! I was ready to live out my inner Lizzie McGuire and finally apply "What Dreams Are Made Of" to my life.
I received lots of advice and warnings before I came to Rome.  I have been here for about a month now, and giving me enough time to evaluate the advice I received and stereotypes I've heard of so far:
1. "Bring some good walking shoes!"
I heard this maybe three or four times when asking how I should prepare for Italy. They were right. Because the streets are much smaller than in the US, it takes far less time to get to your destination. Also, I've heard from many people (including native Italians) that the bus system is not reliable, so people choose to walk everywhere.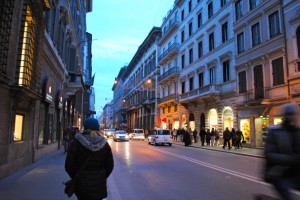 2. "Italians eat dinner late."
One of my uncles told me this, and it's true. This could be due to the awesome aperitivo offered between 7-9pm, which is sort of like a cocktail happy hour. At this time, Italians drink some wine and nibble on snacks in preparation for dinner at 9pm.
3. "Italians drive crazy…"
It's true, and parking is even crazier. I once witnessed a man try to park his nice BMW between a Fiat and a row of Vespas – he clearly didn't fit, but continued to hit his car between the two vehicles – it was just horrible. Come on a BMW! Oh yeah, the other day I almost got hit by a car, but then again I wasn't looking. Still something I'm adjusting to. Be aware!
3. "The quality of food is better than in the US."
I heard this from a professor I had one semester and thought "okay, maybe she's exaggerating." Ladies and gentleman, she was not kidding. Get this, I maybe drank milk once per month while in the US but since being in Italy, I drink milk everyday. I repeat, everyday. It's that good! So get excited.
4. "Italian men are aggressive."
Okay, so I heard this multiple times before coming here and not going to lie, it freaked me out. Good news everyone, it's not as bad as we thought. Sure, there's the occasional "ciao," everyday walking back to your apartment, but nothing gut-wrenching. For now, we can say this is a misconception of the Italian man stereotype.
5. "Wine is cheaper than water."
Although this may be hard to believe, believe my friends. When going to the grocery store, I noticed a bottle of wine cost €1.50 compared to the €2.00 bottled water I paid for at a frutteria the day before. It turns out I definitely got ripped off because when I went to the grocery store the next day they were selling water for less and with larger quantities. Lesson learned!
6. "Watch out for pick pockets."
Maybe because I followed the rules by wearing a satchel and not a fanny pack, there has been no sign of pick pockets. But still, always be cautious.
I've also learned several new things that I hadn't expected. Here are 5 new things I've learned in Rome.
1. Italians love walking their dogs.
2. Pigeons. Pigeons everywhere!
Sometimes I can even hear them cooing from my bedroom. So disturbing! But this man doesn't seem to think so…
3. When ordering hot chocolate at a café…
It's not the hot-milky chocolate beverage we're used to in the US but literally melted chocolate. Hello diabetes!
4. Cheap wine isn't necessarily a bad thing in Italy.
My roommates and I ate at an awesome restaurant in Trastevere called "Hostaria Del Moro Da Tony" aka "Tonys". Their house red wine was €10 per bottle and tasted amaziiing. Emphasis on the ing.
5. Stores open and close at weird times.
They usually open from 8am-1pm then open up again from 4-9pm. It turns out that Italians are very considerate and care for labor rights. They close during 1-4pm so that their employees take a long lunch break and pick up their kids from school.


Jacqueline Roldan
Saint Mary's College of California
Business Major
Study Abroad Spring 2014
Studying abroad at JCU through SAI