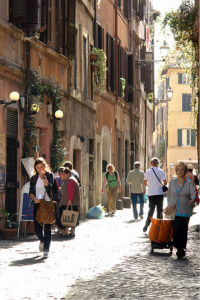 Located on the west bank of the Tiber, Trastevere literally translates to "across the Tiber." An eclectic, culturally diverse and close-knit district, Trastevere is a favorite of Romans and study abroad students alike. The neighborhood's cobblestone streets are reminiscent of the medieval era, while its many shops, cafes and restaurants are a testament to its youthful charm. With John Cabot University's Guarini campus located right near the banks of the Tiber River, students have the whole of Trastevere at their doorstep.
If you're planning to study abroad in Rome, read on to find out some fun facts about Trastevere, your future stomping grounds!
1. Trastevere Was Originally an Immigrant Settlement
In the Regal period (753-509 B.C.) the land west of the Tiber actually belonged to the Etruscans, and was only captured by Rome after a battle between the two civilizations. Because the Romans were only interested in the Tiber for trade purposes, the land across the river was left for citizens to develop themselves. Fishermen, sailors, and immigrants built the Trastevere district from the ground up, making it the culturally rich and diverse neighborhood it is today.
2. Via della Lungara, JCU's Main Campus
On the very street where John Cabot University is located, Via della Lungara, you will find Villa Farnesina, an opulent Renaissance villa that is home to many incredible frescoes by artists such as Raphael.
Just across the street you will see Palazzo Corsini, a baroque palace that is home to Italy's National Academy of Sciences as well as the National Gallery of Antique Art, whose collection includes works by Titian and Caravaggio. Behind the palace is the University of Rome's Orto Botanico (botanic garden), a green oasis with more than 7000 plant species – the perfect place to relax.
3. Piazza Santa Maria in Trastevere
The heart of Trastevere is Piazza Santa Maria in Trastevere, a lovely square that is a favorite location for street musicians. The 12th century church that gives its name to the piazza is one of Rome's oldest and features glittering mosaics by Pietro Cavallini.
4. International Cuisine for Study Abroad Students
Students who study abroad in Rome get to experience both classic Italian dining and foods from around the world, all within the borders of Trastevere. With an assortment of restaurants serving Indian, Japanese, Thai food and more, Trastevere is the neighborhood Romans favor for an international culinary experience.
5. Gianicolo Hill: A Star-Studded Site with Stunning Views
Known as the Janiculum Hill in English, the Gianicolo gives Trastevere residents an especially beautiful view of Rome's ancient architecture. Students at JCU's Guarini Campus who take the 10-minute walk up Via Garibaldi to the Gianicolo to survey this impressive skyline will discover two regal equestrian monuments to historic figures Giuseppe Garibaldi and his wife Anita.
History-lovers and students who study Classical Studies in Rome will also find the climb worthwhile. Although the building no longer stands, Julius Caesar once owned a villa and estate on the top of the Giancolo Hill, where Cleopatra allegedly stayed on a visit to Rome.
6. Cinema America: Occupied by Student Film-lovers
First built in the 1950s, Cinema America was a cultural hotspot for Trastevere's ex-pat population. When the building shut down in the early 2000's, student activists decided to occupy the cinema and begin showing their own curated film collections. Today, Cinema America still has a large student activist following, supported by residents who are committed to preserving Italian cultural-historic landmarks.
7. "Little Madonnas" Helped Reduce Crime in the 15th Century
As they discover Trastevere, students will soon become familiar with a common sight – Madonelle, also known as Little Madonnas. These portraits of Madonna were placed strategically around piazzas in the 1500s to deter Rome's devout Catholic population from committing street crimes. Whether this strategy truly impacted local crime rates is unknown – but perhaps it's no coincidence that Rome remains one of the safest cities in Europe!
8. Director Sergio Leone Grew Up in Trastevere
Anyone attending an English speaking university in Italy will have no doubt heard of legendary Italian director, Sergio Leone. His Spaghetti Westerns starring Clint Eastwood – most notably The Good, the Bad and the Ugly (1966) – are beloved around the world by film buffs and classic movie lovers. Sergio Leone actually grew up in the artsy neighborhood of Trastevere, on Viale Glorioso – a fitting street name for a future hero of cinema.
Read this post in Spanish.
What areas of Trastevere are you most excited to visit when you study abroad in Rome?