While some of you study abroad students might be missing the usual party on the beach for spring break, don't worry: here in Europe, spring break is also huge and celebrated by university students from all over! Plus, the weather is already getting warm in southern Europe, so it's a great time to travel around! Here are 10 not-to-miss spring break destinations:
Only the most beautiful country in the world! You already know how amazing Rome is – but what about Florence and Venice? Both of these lovely, unique cities are definitely worth a few days each! And have you thought about visiting Tuscany? It may take a little more organizing, but with the warm weather, what could be bett
er than driving around visiting wineries, eating local food, and taking in views of the rolling countryside? The Almafi Coast is also a wonderful destination for relaxing and enjoying the sun along the beautiful coastline. Don't worry – you will still be able to eat delicious pizza and pasta while you're traveling in other parts of Italy!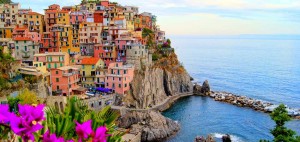 You may not have considered Croatia before, but it is an awesome destination for spring break! Croatia is known for its beautiful beaches as well as its great spring break events. Many travel agencies offer great deals for Croatia on spring break, and you can get there easily by plane or even an overnight bus.
Greece
Hot springs, thermal baths, spa and delicious seafood! Maybe not that fancy on a student budget, but you will be able to find gorgeous beaches and great parties. Start in Athens and go to the islands of Crete and Santorini. You can also find easy ways to travel there by ferry or plane, and there are great deals for cruises around the islands.     
The beautiful city of Amsterdam looks like it's made for spring: so many colors, so much art and culture – not to mention the tulips! It's beautiful to walk and ride bikes along the canals. Don't miss the Van Gogh museum and the Anne Frank House.
Barcelona, Madrid and Seville – and let's not forget about the beautiful cities of Valencia and Granada! Go ahead: eat tapas, paella and sangria in each one of them! Plan your vacation around the fabulous Spring Fair in Seville, which takes place in April.
Yes, there are other cities besides Paris – so after visiting Le Louvre, Le Tour Eiffel, the Champs–Élysées and eating delicious croissants, plan a trip to Bordeaux, Strasbourg, or even better, the Côte d'Azur. The French Riviera is starting to get warmer and you do not want to miss it. Explore Nice, Monaco, Monte Carlo, Cannes and St. Tropez!
When are you going to find a better time to see all the art and history that Berlin has to offer? Check out the Brandenburg Gate and the Berlin Wall Memorial while you're there. And if you're traveling around the country, don't forget about the very historic city of Hamburg and bike-friendly Munich!
Czech Republic, Austria and Hungary
Take a tour of the beautiful European capitals Prague, Vienna and Budapest! They are only a few hours apart from each other by train, so you can see a lot. Check out Wenceslas Square in Prague, the State Opera House in Vienna and the Fisherman's Bastion in Budapest.
To get a taste of a really Mediterranean climate, visit Lisbon. This city has amazing history and great parties at night, plus fantastic beaches.
OK, we're heading away from Europe now, but since it's only a few hours away from Italy, why not? Ride a camel in the desert, eat delicious food and walk through the enchanting and artistic streets.
Read this post in Spanish!
Amanda Uribe
Major: International Affairs
JCU Class of 2019
Hometown: Quito, Ecuador