The quickest way to discover and fall in love with Italy is at the table. Italian cuisine prides itself on simple delicious combinations of the freshest available ingredients. Each region is proud to have its own locally grown ingredients, traditional recipes, and local specialties. Dining is a social time, when friends and family get together to tell stories, joke around, and enjoy each other's company and the great food they share.
Often, when people think of "Italian" food, they think of super cheesy, ingredient-stuffed pizza and heavy cream-sauce pastas with a pile of garlic bread on the side. On the contrary, the essence of Italian cooking is simplicity.
The first thing to know about Italian cuisine is the quality of the ingredients. Italians pride themselves on the freshness of their ingredients, and use basic cooking techniques to simply enhance the natural flavors of the food. That is the reason why, in almost all authentic restaurants in Italy, menus change on a monthly or even daily basis depending on which vegetables are in season or 
what fish was caught that day. Students who study abroad in Rome will notice an abundance of outdoor markets all throughout the city with the freshest fruits and vegetables on display. Freshly made pasta is also a pride of the Italian people, sometimes made in the restaurant's kitchen and sometimes bought down the street from the pastificio.
The second thing to know about Italian cuisine is that there really is no such thing as Italian cuisine. In fact, Italy's cuisine is extremely regional – each part of the country cooks something that no other region cooks. This is due, in part, to the country's relatively short history as a unified nation, as well as the fact that different regions grow different crops and keep different livestock. For example, classic spaghetti with tomato sauce and minced beef – spaghetti alla bolognese – is from Bologna, in the Emilia-Romagna region. You may be able to find it in Rome, but it just won't be as good as it would be in Bologna.  So, when you're traveling to different parts of Italy, try the daily special or ask your waiter what local specialties are available and in season. You'll often be happily surprised with what is served to you, and if you aren't, it will make for a great story!
Now that we have the basics down, let's talk about a typical Italian menu, and what to order in a traditional Italian restaurant.
An Italian meal starts out with antipasti – appetizers. Some of the most common appetizers you'll find in Rome, when they're in season, are carciofi alla romana, artichokes stuffed with olive oil, garlic, parsley and mint; carciofi alla giudia, fried artichokes; supplì, balls of rice stuffed with mozzarella and tomato sauce; and prosciutto e melone, prosciutto ham wrapped around slices of cantaloupe.
After that comes i primi  – first dishes – which will usually be either pasta or risotto. 
In Rome, you'll find a wide variety of pastas, but the three Roman "classics" are amatriciana, tomato sauce with pancetta and onions; carbonara, an egg-based sauce also made with pancetta, and the simple but delicious cacio e pepe, with lots of pecorino cheese, freshly grated pepper, and oil. You'll no doubt find your favorite type of pasta during your time in Rome, but don't be afraid to try a new one each time. Check the daily specials and ask what the waiter recommends.
The second dishes – i secondi – are the meat and fish dishes. If you're having a traditional Italian meal you will order both a primo and a secondo, but don't feel that you have to if you aren't hungry enough or don't have enough time. Italian meals are not to be rushed! One of the typical Roman meat dishes you'll find in restaurants throughout the city is saltimbocca alla romana, which loosely translates to "jump in the mouth". It is a dish of veal wrapped in prosciutto.
Alternatively, you may find yourself in a pizzeria. YUM. There are various types of pizzerias, from those serving thin, charred-crust Roman-style, to those who offer fluffy, doughy Neapolitan-style, to pizza counters steaming with freshly made pizza al taglio (by the slice). You'll come across pizza with ingredients you might find strange (potatoes? shrimp?) but each and every slice will be finger-licking good, we promise.
Last, but certainly not least, i dolci – sweets. An Italian meal isn't over until something sweet has hit the tongue. Whether you go the light and fresh route with seasonal fruit, or something more rich, you will not be without options. Tiramisu, crostata (a thin pie with jam), and pannacotta are just some you'll find in restaurants in Rome. Again, each region has a specialty that should be tasted whenever you travel. These are the first few in the infinite list of Italian desserts, so make sure to try as many as you can while you're there. If you're a coffee drinker, don't forget to accompany your dessert with a nice, strong Italian espresso – it just hits the spot after a big meal. Otherwise, you can end the experience with a digestivo, a tiny glass of digestive liqueur that will help that meal go down smoothly.
One of the best ways to learn about Italian cuisine is to take part in the activities and trips offered by JCU each semester. From wine-tasting and Italian cooking classes to olive oil tasting and the Eating Italy Food Tour, you'll have many opportunities to get an authentic taste of Italy.
Interested in reading more? Check out our blog on the Top Tips for Dining in Italy (or how to not look like a tourist)!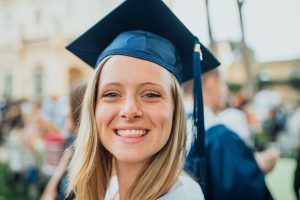 Gillian McMurray
JCU Class of 2017
Communications Major
Hometown: Chicago, USA