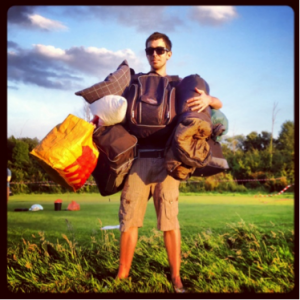 Whether it's a weekend getaway or a month's worth of backpacking, anyone who has taken a trip knows just how disastrous misguided packing can be. Perhaps you took too little and had to keep stopping to restock. Or, maybe you over-packed and ended up anchored to heavy bags that you could barely lift. Experienced packers achieve that perfect middle ground – just enough to cover likely contingencies, but not so much that their baggage becomes an immoveable mountain! Here are a few tips to help you avoid taking what you don't need, and forgetting what you do:
Avoid The Unessential Extras
You're on your way to study in Italy. So rather than the typical campus road trip, where anything and everything is loaded into (and on top of) the car, you'll have to consider airline baggage restrictions when sorting out the necessities. Check your airline's guidelines before adding a second, third, or fourth bag – there are usually fees for this, up to $200! So, how do you keep from packing everything you own?  Make a list. And then edit that list. For every item, ask yourself: do I really need this? How often will I use this? Whittle it down to common sense essentials like bank and health insurance cards, travel documents, comfortable clothes for seasonal weather, prescriptions, and an electronic converter for your laptop or tablet.  Check out this very useful checklist for more guidance. Items you should strike from your list?
Anything you haven't worn in the last 12 months: if you didn't wear it at home, you won't while you study abroad either
A lot of cash: convert money at the airport, or carry just €150 for immediate needs
Money belts: they tend to attract thieves, rather than deter them – stick with a small cross-body bag you can keep an eye on
High heels: OK, you might need one pair for a special occasion, but otherwise, Rome's cobblestones will keep those heels firmly in your suitcase
Books: Invest in an e-reader instead – books will eat up far too much of your weight allowance
Buy it in Rome
You don't want to break the bank while at university in Italy, but there are certain items that most student-travelers prefer to buy on location, rather than lug across the ocean. To avoid excess baggage, consider picking up these things in Rome:
Shampoo/conditioner: these get heavy, and there's no reason you can't buy them close to campus
Over the counter meds: these will take up valuable space, and are readily available at pharmacies in Rome
Food products: we know you have your favorite brands, but you'll be able to find an equivalent abroad, or maybe live a little…try something new!
Limit The Mementos
Maybe this is your first extended trip away from home, and you want to bring along decorative items to make your dorm room feel more like your old bedroom. We understand the need for a few small mementoes – but here's where you should draw the line:
Stuffed animals: one small favorite is fine, but more than that will take up precious room you need for real essentials
Art work: posters, framed paintings, your latest art project – they won't fare well in the belly of a plane, and may end up broken or torn. Consider instead a few photos or postcards that could fit easily in your wallet
Knick–Knacks: otherwise known as tchotchkes, trinkets, trophies, objects d'art, the porcelain ballerina your grandmother gave you for Christmas -again, better to leave these items safe at home and leave a little space in your bag for the new knick-knacks you'll find in Italy!
What are some items you've packed for a trip – and then never used?