Rome is famous for its pivotal role in history, magnificent architecture, and artistic masterpieces; however, few people realize that the Eternal City also boasts some of the world's most beautiful green spaces.
Green space plays an important role in a city setting—environmentally, physically, and socially. Parks provide a natural habitat for urban-dwelling animals, help reduce noise pollution, absorb pollutants in the air, and reduce the "urban heat effect" produced by buildings—especially important as things heat up during the Mediterranean summer!
Students who study abroad in Rome will find that the city's beautiful green spaces are ideal for studying, hanging out with friends, or taking a little "me" time. In fact, spending time in nature has been shown to improve mental health and boost academic performance. But if you haven't ventured beyond your dorm room in a while – or haven't yet visited Rome – the green spaces featured here will give you several more reasons to pack a picnic and get moving.
Beautiful, inspiring, and steeped in history – these parks represent everything that is truly wonderful about the city in spring.
Villa Borghese Gardens
The Villa Borghese is a 17th century Roman villa, designed and constructed by the famous late-Renaissance architect Flaminio Ponzio. This beautiful structure inspired the name of the surrounding Villa Borghese Gardens. Once a vineyard, these English-style gardens are now the site of several museums, statues, and a notable art gallery called the Galleria Borghese, which offers up masterpieces by Caravaggio and Bernini.
In order to preserve its legacy, landscape artists have actually recreated the original 17th century Villa Borghese gardens, reintroducing flowers such as tulips, sunflowers, and marigolds. For students at John Cabot University, this trip back in time is a mere 30 minute bus ride away—perfect for a lazy Saturday or late afternoon stroll.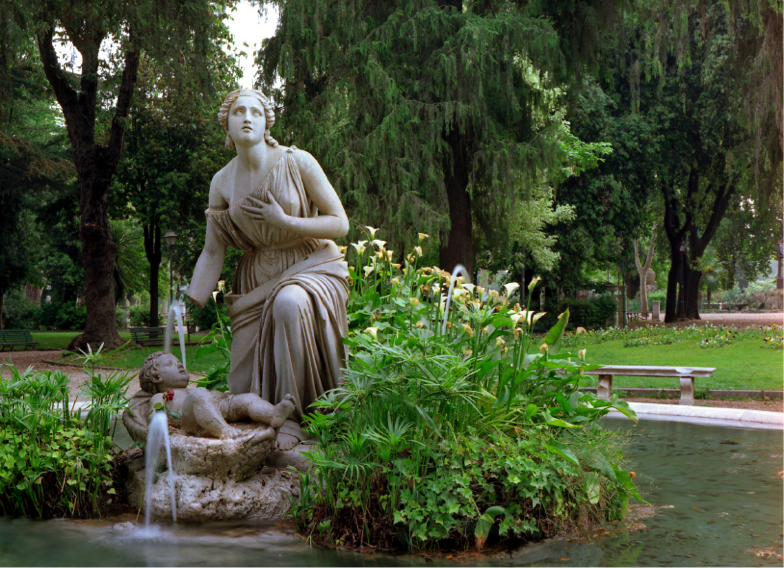 Villa Doria Pamphili
The Villa Doria Pamphili was built by Pamphilio Pamphili in 1630. The villa's surrounding vineyards became what is now one of the largest parks in the entire city of Rome.
In addition to the Villa's scenic gardens and palm trees, there are trails, bike paths, a natural lake—and virtually limitless opportunities for a fun day out with friends. The Villa Doria Pamphili often goes undetected by tourists, but students who study abroad in Italy at JCU need only walk for about 15 minutes for an inner-city escape into the great outdoors.
Villa Ada
A hot spot for families and groups, Villa Ada is one of the most beloved parks in Rome. For anyone looking to do some exercise, the park offers a roller skating track and bike rentals. And nature lovers won't want to miss checking out Villa Ada's rare metasequoia tree, imported from Tibet in the 1940s. Activities offered at the park include pony rides, merry-go-rounds, and the annual Rome Meets the World summer festival. Every year, 50+ international musicians share their culture and music with festival-goers, who enjoy the show while sampling cuisine from all over the world. Running from June to July, this is a must-see for students attending university in Italy during the summer months.
Which park would you head to first while studying in Rome?