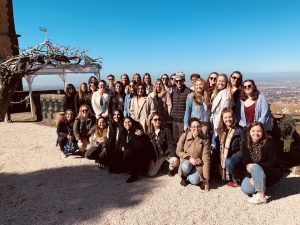 The Spring 2020 Frascati day trip was beautiful, unforgettable, and – in some ways – a life-changing experience!
Getting up that morning, I was innocently unaware of the magic that the day would later reveal to me. Everyday, studying abroad in Rome proves to be an adventure, but this day was one of the extraordinary ones. It started with Giulia Ricci, the Student Cultural Programs and Activities Coordinator, narrating our journey as the bus took us closer to our first destination: a regal villa that overlooked the Eternal City. Walking through the halls, every step I took felt like stepping deeper into the past, like I was living in a moment from history.
We then made our way to a traditional restaurant and shared an incredible meal with the new friends we'd made on the trip. One of the things Giulia taught me was to smell everything, to inhale and appreciate the good simplicity of the products we were tasting.
Next we went to a vineyard – it was gorgeous! The branches of the olive trees lining the entrance welcomed us with open arms. It was incredible to be one with the grape vines and with the people that make the precious wine we love to drink so much. The vineyard itself looked like something out of a painting. The sun fell over the trees, casting warm shadows on the flowers in the grass. The farmers filled our glasses with a white wine that had a radiant gold tint, like an enchanted elixir, and we tasted the fruit of Italy's soils.
Before we left, Giulia led us through a meditation. Lying on the cool grass with the yellow sun beating on my face ,I realized how lucky I was to be in this moment, to be in this beautiful country, and to be alive. I felt thankful for the earth, the people around me, and the simple gifts in life that create so much joy.
John Cabot University's Cultural Programs Office offers a variety of opportunities each semester to intellectually stimulate students by exposing them to the rich history and culture of Italy. Learn more about the activities that you can participate in when you study abroad in Rome.
Nikki Wieman
Study Abroad Spring 2020
Psychology Major
Loyola University Maryland