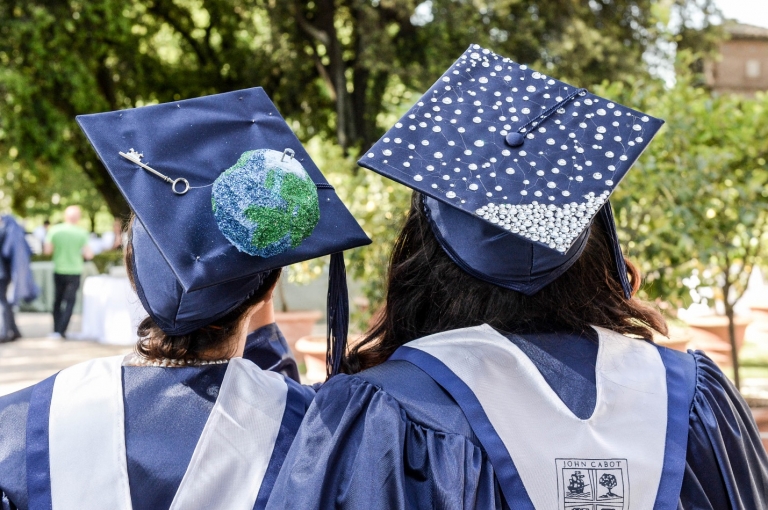 When Eva Paunova graduated from John Cabot University with a bachelor's degree in International Affairs and another in Business Administration, she had plenty of potential career paths to choose from.
Eventually she decided on a career in politics, and soon became one of the youngest members of the European Parliament – earning the "Best Newcomer MEP" prize and, most recently, a spot in Forbes' prestigious "30 Under 30 Europe" list along the way.
While Eva's career path has led her to extraordinary places, it's not the only option for current international affairs grads – far from it!
If you're considering starting your studies in international affairs, here's a closer look at some of the many different career paths you can choose to explore after graduation.
1. Work in Global Public Service and International Development with a Degree in International Affairs
With a keen understanding of some of the most pressing issues facing the globe, international affairs grads are often top picks for international organizations, especially those dealing with aid and development. Studying in Rome also gives international affairs students a key advantage: Rome is the home of several United Nations agencies, including the World Food Programme, the International Fund for Agricultural Development, and the Food and Agriculture Organization. As a result, some students secure internships at these top organizations – and gain hands-on experience before even finishing university!
2. Pursue a Career in Politics, Diplomacy, or Public Policy after You Study International Affairs in Italy
JCU International Affairs grad Leonardo Quattrucci is the youngest policy adviser at the European Political Strategy Centre of the European Union. If you're passionate about politics like Leonardo, then a career in the public sector might be the perfect fit for you. A degree in international affairs is an ideal fit for many career paths in politics and government – whether you choose to work in diplomacy, international security, or as a policy analyst!
3. Work in International Business after Graduating with Your International Affairs Degree
As you study international affairs in Italy, you'll accumulate a vast reservoir of skills and knowledge coveted by the business world – from sharpening your critical thinking skills to learning how to manage both quantitative and qualitative data. You will develop an understanding of the underlying forces that shape global economics and successful international organizations.
In today's globalized world, having employees who understand international affairs is increasingly a must. And, as a student at an American university in Italy, you'll already have experience living in a truly multicultural international environment – helping you stand out as a top pick to employers after graduation.
With that education and experience, you could work at any number of transnational organizations in a multitude of rewarding roles. Here is a small sample of employment possibilities:
Business Development Officer
International Marketing Analyst
Human Resources Specialist
Get into Communications after You Study International Affairs in Italy
Reporting on the top issues facing the world today takes an in-depth knowledge of their political, economic, and historical dimensions in order to properly understand the impact of new developments within the larger context. That's why – if you enjoy writing and analyzing current affairs – pursuing a career in communications might be the path for you.
Possible career paths in communications include:
Foreign correspondent
Travel writer
Public relations manager
Do you want to study international affairs at one of the top universities in Rome?
Discover why our students love attending John Cabot University by visiting our testimonials page.