John Cabot University's Multicultural Club hosted "Arabian Nights," an event focused on presenting Arab culture to the JCU student body. The presentation covered the differences in the customs, food, dress, and dance between Arab nations.
Following the presentation, there was a live performance that featured a belly dancer. The dancer came off the stage at one point inviting the audience to dance with her if they were brave enough to do so. I was not one of those brave individuals, but enjoyed the show nevertheless.
After the show, the club provided free food from Arab countries- something that all college students all greatly appreciate. The students flocked to the tables of food like a pack of ravenous lions. Everyone's plates were piled high with an assortment of rice, chicken, falafels, and baklava.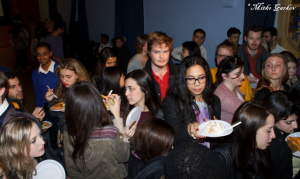 The club did an awesome job putting together the event. They made all of the guests appreciate the diversity within our university, as well as shinning light on the particular cultures in Arab nations. The entertainment was great, and the spread was fantastic. Belly dancing, live music, and free food- just your average Tuesday evening at John Cabot University.