Mobile technology has revolutionized backpacking. There are more apps and websites than ever to help you plan and organize your trips. I'd like to share with you some general thoughts on apps, and then a my favorite specific ones to wrap up.
Local Transportation- Many major cities across Europe have their very own app with an offline map, metro and bus routes and even live schedules. Wherever you find yourself, it's very likely there's one available for free or as little as a dollar, so check them out!
News– I like to keep up on my news while abroad. I find it keeps me plugged in and aware of the living culture in each city I visit. Check out Huffington Post, BBC, NPR, and CNN.
TripIt is a free software that lets you organize your flight travel. Ever show up at the airport, and they ask for some long-lost booking number or confirmation code? This takes care of that and organizes all the information you'll ever need about your travel plans in one convenient app. As soon as you get the confirmation email from whatever airline you book on, forward that email to [email protected], and it automatically populates all the crucial information from terminal and airline to departure/arrival times. It even keeps track of your various airline rewards programs.
Currency lets you keep track of fluctuating conversion rates throughout your semester so you know exactly how much that fancy dinner equated to in US dollars.
Word Lens exhibits an incredible technology that recognizes and translates letters visually in real time on screen into whatever language you designate (that's the idea at least). They've added a load of languages recently including Spanish, French, Italian, German, Portugese and more.
Text+ allows you to utilize wifi networks to send texts to your friends back at home. Free for you and free for them.
Mint.com is a great way to budget while abroad, and it also lets you keep track of your balances while on the fly. You can even set up alerts for when your balance drops below a certain threshold to avoid overdraft fees.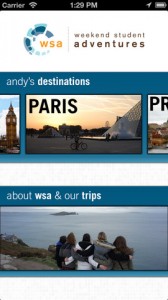 Kayak is well-executed cheap flight search engine. I'm still a bit old fashioned in that I don't purchase my flights directly on the phone, but it does let me do a quick comparison of whatever flights available within my search criteria. I'll then bust out my computer if I see a price worth jumping on.
iRail lets you search the Eurail database for train timetables. Much like a flight search engine, it lets you prioritize by number of stops and it also routes you on a visual map so you can compare your most direct options. Still a little buggy, I'm hoping that the app will come in to its full potential with new updates.
HostelWorld has come a long way in the last few years. It's easy to research and book hostels directly on your phone, just as easy as you would on a desktop.
Runtastic does a great job of helping you map out your runs in unfamiliar cities.
Weekend Student Adventures might be shameless self promotion, but I've put together an app with my favorite spots in several cities across Europe to help you make the most of your time and money. Check it out and send feedback our way so we can continue to improve our recommendations!
Andy Steves (Notre Dame '10, John Cabot Spring '08) helps students make the most of their time and money while overseas through an online resource and weekend city packages for the students abroad in Europe. Check out www.wsaeurope.com for more on Andy and free online resources like recommended mobile apps, tips on finding cheap flights, great hostels and more. He's given travel workshops at JCU and more than 30 other campuses across Europe each semester since launching Weekend Student Adventures upon graduation from ND back in 2010. He'll be visiting JCU once more during orientation week so be sure to come out and say hi!