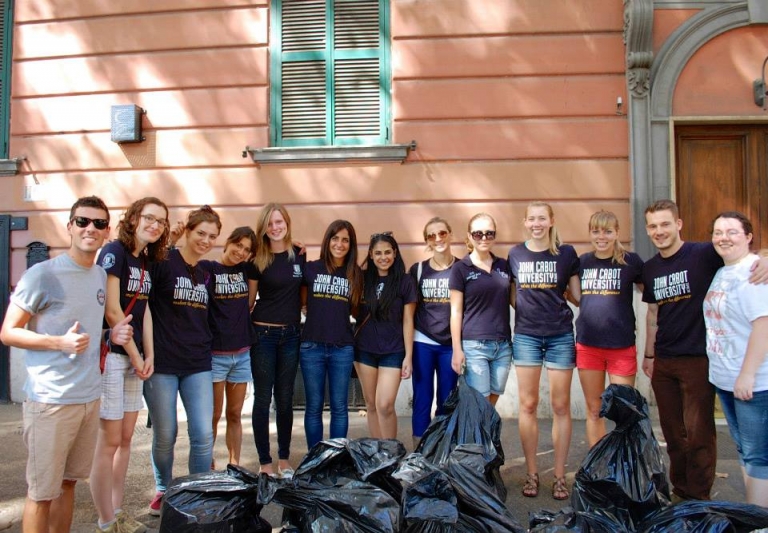 Have you ever considered volunteering your time to a worthy cause? These days, more and more students are getting involved in local activism and community service. Social consciousness is a defining feature of global citizenship, and when put into action, a very inspiring way for study abroad students to make friends, discover Rome, and get involved with a cause they're truly passionate about.
John Cabot University has plenty of campus programs to help student get their start volunteering, such as the Italy Reads program, where volunteers travel to local high schools to promote English language learning, literacy, and cultural exchange. JCU is also affiliated with many local volunteer organizations, such as STAND, Grassroots and the year-round Blood Drive. And Rome of course, hosts hundreds of other volunteer organization in which students can begin their community service journey.
Read on to discover the benefits of volunteering while attending university in Italy.
1. Volunteering Helps Make you a Stronger Student
Mid-way through the semester when your assignment to-do list seems to grow by the day, it can be difficult to stay energized, motivated, and on top of your course work. It may seem counterintuitive, but signing up for volunteering can actually help you organize your time and resources better.
When you've committed to a cause, you know that others are counting on you to follow through, which means there's no room for procrastination! You're compelled to get up and get moving, and stick to a regular schedule. The added structure – plus the good feelings that come from giving back – can help revitalize your spirit. Community service has actually been proven to increase student motivation, improve school attendance, and encourage students to become more engaged in class.
2. Volunteering Helps New Students Feel More at Home
Students who study abroad in Rome may feel a bit disoriented when they first arrive. Being introduced to a new culture, city, and group of classmates is definitely exciting, but might require some adjustment during the first few days. Volunteering on campus is an ideal way for newcomers to forge friendships, explore campus resources, and get to know the neighborhood – all while working for a great cause!
3. Volunteering Helps Students Gain Professional Experience
Volunteering within your area of study can provide valuable insight into real-world work environments and career paths— and it's also a great way to gain marketable professional skills and network with other people in your field. Employers love to see volunteering on a resume, and community service may even earn you a positive reference for when you hit the job market after graduation or start applying to graduate programs.
4. Volunteering Helps Build Cultural Awareness
Rome is home to a wonderfully diverse population. Community service can be an amazing way to explore a new community while helping its members to grow and thrive. Whether you're volunteering at a community center for children, with a literacy program, or at a center for newly landed immigrants, you'll make a difference while enriching your own cultural awareness.
Animal lover? Volunteering at one of Rome's dozens of animal shelters is another way students can make a difference while connecting with likeminded locals. For example, students can offer their time and compassion to the famous Torre Argentina Cat Sanctuary, situated just across the Tiber River. This ancient temple and archaeological site is home to about 250 stray cats, which are all cared for entirely by volunteers!
What kind of volunteering will you pursue when you study abroad in Italy?