Hi! My name is Daniela Bolzoni, and I am an Italian degree-seeking student at John Cabot University.
When I was in high school, I already knew that I wanted to study communications in English, but I had no idea where I wanted to study. I knew I wanted to go somewhere far away from my hometown. I did not want to choose the normal option, like most of my Italian friends did, and apply to an Italian university. Instead, I wanted to challenge myself. I wanted to push my boundaries, get out of my comfort zone, and be surrounded by people from different cultures and with different backgrounds than mine.
During my senior year, I started looking into American universities – first in the United States and then in Italy because I still wanted to feel connected to my Italian roots. When I found out about John Cabot University, I did some research and applied right away. It felt like JCU was the answer to my dreams!
Today, I am majoring in Communications with a minor in Business Administration. I can say with confidence that the decision to study at JCU was absolutely worth it.
The reason I chose to major in Communications is because it is a multidisciplinary degree that allows me to learn many transferable skills that will be fundamental for employment and my future career in the advertising industry. This type of degree combines technology and international contexts, and students with this B.A. can pursue careers in many different fields. Since we live in an age in which things change fast and we need to be able to adapt quickly, in my opinion, this degree is the perfect solution.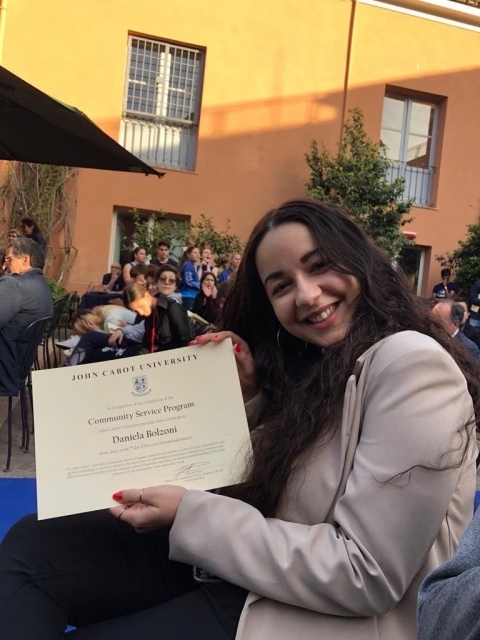 This is my second year here, and I could not be more happy. I have friends from all over the world, I've learned a lot of new things, and most importantly, I have had the possibility to study alongside peers from different countries. This is something that is extremely important for my personal and professional growth. I am also super involved with several of JCU's student Clubs and Organizations. All of these opportunities, combined with living in Rome, make your college years unforgettable!
After graduation, I plan to continue my education and enroll in a master's program that focuses on advertising. Maybe I'll even open my own advertising company someday.
My story is important and special to me. I am extremely happy with my choices because it made me who I am today. Every JCU student, whether they are studying abroad or earning their degree at JCU, has a different journey. I absolutely recommend studying here because you will not regret it.
Daniela is a JCU Student Ambassador. If you would like to get in contact with a Student Ambassador to ask questions about our degree programs, JCU student life, housing, career services, or anything else, you can schedule a call or email [email protected]
Daniela Bolzoni
Communication Major, Business Administration Minor
Class of 2022
Hometown: Milan, Italy/Casablanca, Morocco