Lots of students love to travel during their school vacations or over long holiday weekends. While studying at JCU, most students visit famous cities like Berlin, Paris, London, Florence, Milan, etc. However, I found a place to visit that many students probably have not considered, that is inexpensive compared to many other cities, and most of all, is gorgeous with amazing views – Budapest, Hungary.
First you need to figure out your transportation. It takes too long by train or car, so I recommend flying. If you go to Wizzair.com or Ryanair.com, you will find the cheapest fares. It can be as low as 30 Euros one-way if you book in advance. Also, since you are already in Italy and both are Schengen countries, you will not need a visa or any other documentation to enter the country.
Budapest has, in my opinion, one of the most attractive nighttime views in Europe. Today I am physically here in Budapest, and below are some photos I took to show you the real Budapest.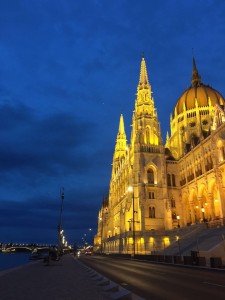 Besides the amazing views,  there is also the opportunity to enjoy the well-known hot springs. The most popular hot spring is the Szechenyi Bath (Budapest, Allatkerti krt. 9-11, 1146 Hungary), where you can experience both a hot bath and a sauna in the same place.
Since Hungary uses Forint rather than Euros, it is more cost-effective if you exchange Euros to Forint at a bank, because money exchange places are often way too expensive.
The good thing about university life in Italy is that you can travel around the rest of Europe (and beyond) on your school breaks. And the great thing about studying at JCU is that Rome is the capital of Italy, with two major airports plus various train stations, so you can go to your preferred destination easily, usually without spending too much. Are you ready to discover new places while studying at JCU?