It's no secret that Rome is the perfect location for those studying Art History, History, or Classical Studies. With the many ancient artifacts, monuments, historical buildings, and works of art, Rome is like one huge open-air museum. However, the Eternal City has more to offer than meets the eye, and actually has many spots rich in history and culture for every area of study. It is a city that has inspired artists for centuries. Countless writers and poets created their works in Rome and their steps can still be traced today.
Here are 5 sites in Rome that every English Literature major and Creative Writing minor should visit:
1. The Keats-Shelley House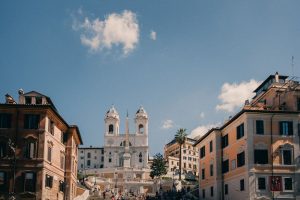 (Piazza di Spagna, 26)
The area around Piazza di Spagna in the 1800s was home to many expatriate artists, and was even nicknamed the "English Quarter." The Keats-Shelley House, one of the most famous literary landmarks in Rome, is where poet John Keats came to live in hopes of curing his tuberculosis. Today, the museum has Keats' room preserved, along with thousands of Romantic texts and works by him, Percy Bysshe Shelley, Lord Byron, and more.
2. The Protestant Cemetery
(Via Caio Cestio, 6)
Behind the Pyramid in the residential Ostiense neighborhood, both Keats and Shelley are among many buried in the Protestant cemetery. Non-Catholic expatriates, painters, writers, and musicians have been buried here since around 1730, and Oscar Wilde even wrote a poem about it. Today, the cemetery is a peaceful spot to catch some shade under the trees and get lost in your thoughts or do some writing of your own.
3. Goethe's House
 (Via del Corso, 18)
In 1786, the German writer Johann Wolfgang Goethe traveled to Italy and lived in an apartment on Via del Corso. He was drawn to classical art and would spend every day exploring Rome while studying the various paintings, sculptures, and statues around the city. Today, the apartment has been preserved as a small museum with his drawings, sketches, letters, and diaries.
4. Antico Caffé Greco
(Via Condotti, 86)
The Antico Caffé Greco is one of the oldest cafés in Italy. Stroll down the luxury shopping street of Via Condotti, and step inside the beautiful café where many of the writers from the "English Quarter" would gather. Among the English writers, some other patrons included Gogol, Stendhal, Hans Christian Anderson, and Alberto Moravia. Go enjoy a coffee on the same tables that these artistic geniuses once worked through their manuscripts on.
5. Monte Pincio
Monte Pincio is a hill located above Piazza del Popolo and beside Villa Borghese. Henry James used to sit on a bench on the hill and get inspired by the city around him. This truly was a writer's haven to him, and can be seen in the characters of his works–particularly Daisy Miller, who also took evening strolls throughout Monte Pincio.
Alexa (Shearer) Vujaklija
Class of 2015
Communications Major
Grew up in The United States, Germany, The Republic of Georgia, Russia, and Bulgaria