John Cabot University is committed to giving each and every student a chance to succeed. This includes the wonderful financial aid opportunities that JCU offers. The scholarship program at JCU provides numerous awards based on merit, financial need, and your geographic origin. John Cabot recognizes and encourages the wide array of students who apply, and makes certain that there is a scholarship for just about everyone.
This includes Italian-American students. Being an Italian-American and studying in Italy is a great way to immerse yourself in the culture, tradition, and lifestyle that you may recognize from growing up with an Italian family, and that you may wish to explore further. You might even learn something new about your heritage!
Here are the top 3 scholarships for Italian-American students:
1. THE NATIONAL ITALIAN AMERICAN FOUNDATION NORMAN R. PETERSON SCHOLARSHIP
The National Italian-American Foundation (NIAF) Norman R. Peterson Scholarship is made possible through the generosity of Ambassador and Mrs. Peter Secchia in memory of Mrs. Secchia's late father, Mr. Norman Peterson.
This scholarship is a partial tuition scholarship of $5,000 awarded to students studying at John Cabot University.
Two grants are awarded annually to an Italian-American, U.S.-based degree-seeking student by the NIAF. The financial award received allows you to be classified as a "Secchia Scholar" with an additional tuition reduction of 15% off the current JCU tuition fee.
2. THE ORDER SONS OF ITALY IN AMERICA PIETRO SECCHIA SCHOLARSHIP
The Order Sons of Italy in America Pietro Secchia Scholarship
This scholarship is a $5,000 scholarship awarded on the basis of academic merit, financial need, and your desire to further your knowledge of Italian heritage.
It is awarded to qualified Italian-American visiting students for one semester or one academic year at John Cabot University in Rome.
Recipients are selected by the Order Sons of Italy in America and the financial award received allows you to be classified as a "Secchia Scholar." Scholarships for a summer session may also be awarded at a reduced amount.
3. COLUMBUS GUARINI SCHOLARSHIP FOR ITALIAN-AMERICAN STUDENTS
The Columbus Citizens Foundation Columbus Guarini Scholarship is possible thanks to Frank J. Guarini. Chairman Guarini is one of John Cabot University's most generous benefactors. In 2008, JCU officially dedicated the Frank J. Guarini Campus to him in recognition of his generous support of the University since he first joined the Board of Trustees in 1995. He is also Chair Emeritus of the National Italian American Foundation (NIAF).
This scholarship provides $5,000 scholarships for five Italian-American students at John Cabot University each year.
Freshmen, transfer, and study abroad students of Italian descent (at least 25% Italian) with a GPA of 3.0 (85% or B) or higher who are from households where the total gross income does not exceed $25,000 per capita ($25,000 per person in the household) are eligible.
If you want more information about applying for any of these scholarships, email [email protected]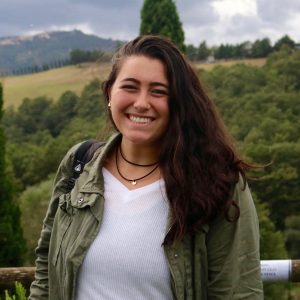 Micayla Mirabella
Class of 2020
Communications Major
Hometown: Fanwood, New Jersey