The semester is almost over but you haven't really had a chance to enjoy Rome yet? You still have time to explore the Eternal city, especially beautiful now that Christmas is coming up! Here is a list of things to do in Rome during the Christmas holiday season.
1. Go ice-skating.

A huge 1200 square meter outdoor ice rink will be set up in front of Castel Sant'Angelo, from December 5th until February. Put on some warm clothes and enjoy an evening ice-skating with your friends not far from John Cabot University!
2. See the Christmas lights.

Decorations in Rome are more and more colorful every year. You can enjoy Christmas lights not only in the city center, but also in the Termini station area, in the EUR neighborhood, and even at the Fiumicino airport.
3. Try traditional Christmas sweets.

Bakeries are now offering traditional Christmas treats such as panettone (a big yeasted cake that traditionally consists of raisins and dried fruit), torrone(also known as nougat- made with honey, egg whites, vanilla, and nuts) and pandoro (a traditional soft yeast cake with powdered sugar).
4. See the Pope.

Over the Christmas season, there is lots of opportunities to see the Pope in Rome, from midnight mass to "Urbi et Orbi" on Christmas Day. The Urbi et Orbi address and blessing are given each Easter and Christmas from the central loggia of Saint Peter's Basilica in Rome, at noontime. The address concludes with greetings in many languages in relation to the feast celebrated.
Visit Christmas markets.
The Piazza Navona Christmas market is one of the largest in Rome. Everyone stops here at some point during the Christmas season. Here you can find Christmas decorations, presents for your family and friends, and delicious sweets.
6. Admire Christmas Trees.

Each year many Christmas trees are set up in the city. You'll find a huge tree one in Saint Peter's Square, and two of the largest ones in Piazza Venezia and next to the Colosseum.
7. Go shopping.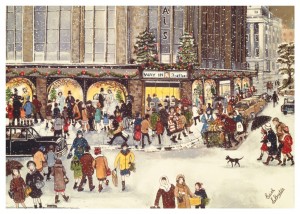 You can enjoy Christmas shopping on Via Del Corso and other Roman streets. However, bear in mind that most shops will be closed on Christmas Day and on January 1st.
8. Visit Museums.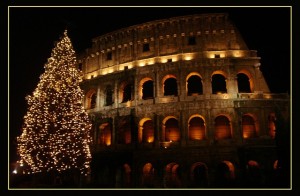 The Christmas period is perfect for visiting museums and other touristy attractions that are less crowded now than during the summer time. The Colosseum, the Palatine Hill and the Roman Forum will be open every day, except for December 25th and January 1st. Some smaller museums might be closed for more days during the holidays, but churches will always stay open. Obviously, squares and fountains will always be at your disposal, so you can't really run short of things to do!
9. See some Presepi.

You can find a presepe (nativity scene) in almost every church in Rome. A huge life-sized presepe is set up in Saint Peter's Square. The Church of Saints Cosma and Damiano, close to the main entrance of the Roman Forum, also boasts large 18th-century hand-carved Neapolitan nativity scene.
Прочитайте этот блог на русском языке!
Anastasiia Komarova
Communications Major
Class of 2018
Hometown: Moscow, Russia