Do it before you regret not doing it.
Fortune cookies… they never get old. I held the small white slip of paper in between my fingers and mindlessly shoved it into my back pocket as if it meant nothing to me. And it hadn't, at the time. It wasn't until I discovered that it had survived the traumatizing event of a wash in the machine the next morning that I stared at the message a bit longer than the two seconds I had allowed myself before. You're being ridiculous, I thought, and I stuck the little note in my kitchen drawer. Surely there were plenty of things I simply couldn't do.
My dream of studying abroad in Rome, Italy, was one of them.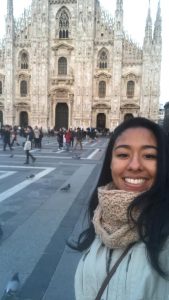 However, the idea of attending university abroad began to creep slowly but surely back into my mind. I was a seventeen-year-old girl with a dream of traveling the world. Or so I thought. It wasn't until it hit me that nobody in my small, southern community had ever done this that I suddenly grew terrified of what lay ahead me. In my town, traveling abroad wasn't necessarily "a wonderful experience." It was "bold and risky for a girl my age". Instead of being encouraged to chase my dreams, I was often told, "You're not ready for that." I'd be lying if I said I never let it get to me. But I'd also be lying if I said I forgot about the slip of paper from my fortune cookie. Do it before you regret not doing it
A year later, I found myself sitting down with my family, discussing my next trip to Rome. This time, however, we didn't purchase round trip flight tickets. I would be staying to pursue my education at an institution I could have only dreamed of. My decision to attend John Cabot didn't happen overnight, and I didn't know anyone who had done something like this before. Graduating from high school only to move to a foreign country was a ludicrous idea in my community. But leaders don't become who they are by following the masses.
Studying abroad won't be easy. I'm still terrified and I doubt myself all the time. However, my decision to attend John Cabot is a small victory in itself because it brings me one step closer to my dreams. As for right now, I am fully committed to taking every opportunity, even if the idea may seem ridiculous to some. If my willingness to achieve my goals is "bold and risky" then so be it. Perhaps taking such a bold risk will result in something truly unforgettable.

Kehisha Johnson
Class of 2022
International Business major
Hometown: Alpharetta, Georgia, USA