Ciao! Mi chiamo Giulia, ho 19 anni, studio marketing presso l'universita' John Cabot di Roma e sono appasionata di tutto ciò che riguarda il marketing ed i media. Sono nata a Roma ma mi sono diplomata presso la Berkley High School, nel Michigan. Mi sono trasferita negli Stati Uniti per il mio ultimo anno di liceo, durante il quale ho frequentato la mia prima classe di marketing, innamorandomene pazzamente. Avevo deciso di voler proseguire i miei studi sulla materia, iniziando quindi a cercare universita' che offrissero buone facolta' di marketing, ma provavo anche molta nostalgia del "bel paese" e della mia vita italiana. Non fraintedetemi, amo l'America, ma come potevano non mancarmi la pizza, gli spaghetti, il vino, il gelato, la nonna…
A quel punto ho iniziato a cercare delle universita' italiane che offrissero un buon programma di marketing, ma non ho avuto per niente fortuna, finchè mio padre non mi ha fatto conoscere la John Cabot University. Ricordo che rimediai un catalogo e lo lessi dall'inizio alla fine. Le facoltà, il posto, i video pubblicati sul sito internet; tutto riguardo all'università mi ha ispirata sin da subito. Sapevo che la John Cabot sarebbe stata la scelta giusta per me, per cui sono rientrata a Roma ed eccomi qua, iscritta al secondo anno di universita' presso la facoltà di marketing dell'Università.
Ho capito di preferire il sistema scolastico americano, perchè, invece di limitarsi a lezioni frontali e ad una didattica prettamente teorica, permette agli studenti di imparare ad esprimere se stessi e di crescere personalmente e professionalmente, fornendo gli istrumenti necessari per aprire le porte ad una brillante carriera futura. L'Italia, comunque, a prescindere da tutti i suoi difetti, è ancora il paese più bello, più romantico e più affascinante del mondo e la sua cultura una delle più interessanti. Dove altro trovi una nonna la cui unica preoccupazione è se hai mangiato abbastanza e che ti carica di cibo ogni volta che vai a trovarla?
Quando ho iniziato a frequentare la JCU, mi aspettavo che la diversità culturale che la caratterizza potesse permettermi di sentirmi sempre in viaggio ed insegnarmi qualcosa di nuovo ogni giorno. La verità è che non mi sbagliavo affatto! Alla JCU, infatti, scambi culturali accadono continuamente. Io ed I miei compagni condividiamo costantemente i nostri usi e costumi l'uno con l'altro e questo ci permette di viaggiare con la nostra immaginazione e vivere culture differenti. Ho scelto la John Cabot perché è la perfetta combinazione tra ciò che amo dell'America, ciò che amo dell'Italia e ciò che amo della vita.
Scopri di più sulla facoltà di marketing della John Cabot University!
Ciao! My name is Giulia, I am 19 years old and I am a marketing major at John Cabot University who is passionate about everything related to marketing and media. I was born in Rome but I graduated from Berkley High School, MI. I moved to the States during my senior year of High School, during which I took my first Marketing class ever and absolutely fell in love with it. I immediately decided that I wanted to further my studies on the subject, and I started searching for universities with good marketing programs in the USA, but I began nostalgic for "il bel paese" and my former Italian life. Don't get me wrong; I love the U.S., but how can you not miss pizza, spaghetti, vino, gelato, nonna…
The decision to move back to Italy meant I had to start searching for Italian Universities that offer marketing programs. I did not have the best of luck, until my dad introduced me to John Cabot University. I got a catalogue and read it top to bottom. The curriculum, the location, the videos posted on the website; everything about the university inspired me. I knew it was the perfect fit, so I flew back to Rome and now here I am, in my second year as a marketing major at John Cabot University.
I have found that I prefer the American higher education system, which rather than simply instilling factual knowledge, allows students to learn to fully express themselves and to grow personally and professionally, handing them the tools that open up doors to brilliant careers. However, Italy, in spite of all of its flaws, is still the most beautiful, romantic, and fascinating country in the world, and its culture one of the most interesting. Where else will you find grandmas whose main concern is that you are well-fed when you visit them and always leave their houses carrying loads of food?
When I began my university experience at JCU, I expected that being immersed in such a diverse environment would make me feel like I was travelling all the time, and would teach me something new every day. Now that I have been part of such a warm, international community for a while, I can say that my expectations have definitely been met! At JCU, cultural exchange takes place constantly. My classmates and I enjoy sharing our customs and traditions with one another, and this allows us to travel with our minds and actively experience unfamiliar cultures. I picked JCU because it is the perfect combination of what I love about America, what I love about Italy, and what I love about life.
Learn more about studying Marketing at John Cabot University!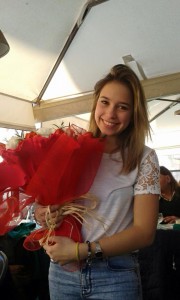 Giulia Isidori
Marketing Major
Class of 2018
Hometown: Rome, Italy