My name is Camilla and I am a student at John Cabot University. I have been studying at John Cabot for two and a half years now and I can only be thankful for what it has given me.
First of all, John Cabot gives its students the chance not only to study their desired major, but also the possibility to obtain two degrees at the same time with a double major, or a major and a minor. This allowed me to follow simultaneously two courses of study that have always fascinated me a lot. My major is Communication and I'm also pursuing a minor in Psychology. I had the opportunity to get to know and learn from brilliant professors with different backgrounds, very prepared in their subjects and with evident passion for what they teach.
John Cabot has also allowed me to become what I have always wanted: an active global citizen. Before John Cabot, having grown up in an ancient town in Tuscany – Montepulciano, to be precise – my knowledge of the world was limited. In fact, I was lucky enough to have attended kindergarten, elementary, middle school, and high school there, without ever having to move. After finishing high school, I moved to Rome to start my degree at John Cabot, where I would experience my independence.
Now, I'm writing this post from California State University, Long Beach. JCU's direct exchange program gives its students the opportunity to attend partner universities around the world for a semester or a year. I decided to come to California because I'd always wanted to visit, thus combining two of my great passions: study and love for travel. But above all, it gave me the courage to do what I've always had some fear of doing: getting out of my comfort zone.
Looking at my past, I realize that today I am a more independent, mature, and aware person. For this reason, I can, without a shadow of a doubt, say that John Cabot University was for me a great teacher of life.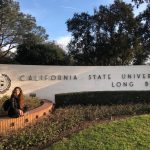 Camilla Massoni
Class of 2020
Major Communication, minor in Psychology
Hometown: Montepulciano