When it came to choosing a college, many of my friends back home chose big American universities – but I decided I wanted to live in a different environment that would allow me to expand my view of the world. Before attending John Cabot, I had made the trip to Italy many times to visit family in the south, and to see my sister who attended JCU as an International Business major. When I flew into Fiumicino to begin orientation it felt like embarking on a new adventure. I met my roommate, another American degree-seeking student, and she was from Dallas, like me! It was nice to have something in common to talk about and compare the places we were both familiar with back home.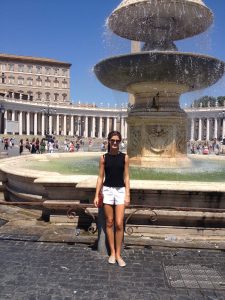 I decided to go to John Cabot because it was a way to broaden my horizon and experience different cultures. Growing up in an Italian family, I was familiar with the traditional foods and celebrating big holidays, but I'd never experienced living in Italy. I have lived in Dallas my whole life and I felt like I needed to challenge myself and get out of my comfort zone.
The thing that worried me the most was getting lost, but I found my way around the streets easily and getting directions was never a problem. I lived in the Gianicolo residence for my first semester and it was easy to get to both Tiber and Guarini campuses. Developing relationships with the other students was easy, since everyone is very friendly. It's fun getting to know other students from around the world and making new friends. The hardest thing about living in Italy has been the language barrier. I sometimes find myself not knowing what to say or how to respond, since I only know short phrases to get by. But I'm working on it!
My sister also lives in Rome so if I ever need a place that feels like home, her apartment is the closest thing to it. I am very grateful that she is only a 20-minute walk away. Leaving home was an easy transition: my parents also came and visited me for a couple weeks and it was nice to show them around the streets and ancient sites in Rome.
My first semester at John Cabot flew by. I am majoring in International Business and have taken many different classes with great professors. The curriculum is challenging, but if you study hard and make use of the tutoring services, it is easy to excel. Outside of the classroom, I spent the first semester seeing so many places in Rome  and finding some great restaurants! During the rest of my college career at John Cabot, I hope to travel to lots of different countries and take advantage of the academic and extracurricular opportunities John Cabot provides.
Anna McCutchen
Class of 2020
International Business Major
Hometown: Dallas, Texas