I have always known that after leaving high school, you will not remember the twenty definitions you were told to memorize one week, or that one test you failed. Instead, you will remember the friendships, the hard work, and the memories you created during your time there. When I began looking for a university, I wanted to find an institution where I could make a difference – one that would allow me to make life-changing memories, start a new chapter, better myself, and stimulate my growth as both a student and an individual.
I spent my first two years of high school in a New York City public school and the last two in a private international school in Florence, Italy. I am very fortunate to have experienced these two very different lifestyles as they showed me that I thrive best in an international environment. Once I looked into John Cabot University, I saw it was much more than an American university in Rome. It appealed to me as an Italian-American "third-culture kid" because it is a school where I can take pride in being an American, and still have the opportunity to live in the country where I was born.
However, the road to finding JCU was not an easy one. As my senior year was coming to an end, I felt the need to follow the majority of my classmates; that is, to study in England. Since the International School of Florence has English-speaking students from all over the world, the majority of its graduates go to study in London or Scotland. The stress of the International Baccalaureate Program and the deadlines for college applications led me to a decision I knew I regretted in the back of my mind. I was accepted into eight universities in the UK, but I was just not happy with any of them – none of them convinced me and deep down, I knew they weren't right for me. It took me the entire summer to think it over until I decided I was going to take a gap year. Yes, I was going to go against all social norms and take the time to find a university that was tailor-fit for me. In September, the International School of Florence asked me if I was interested in an internship in the Marketing and Development Office. It was as if the road I was destined to take was suddenly laid out in front of me. After four months, I was employed full-time to help organize events, fundraisers, and the school's alumni association. This is what led me to want to study Marketing at John Cabot.
I know that the job opportunity I was given was a "one in a million" opportunity, and the experience taught me things that a school never could. I realized that every person needs to establish principles for himself or herself – along with the respect, courage, and confidence we owe ourselves. You do not learn from things that come easy, and by pushing myself one step further every time, I was able to see my potential in any career path I choose. Taking a gap year ended up being absolutely the wisest choice I could have made. You have to want to learn in order to grow; taking the time I needed to make a life-changing decision does not characterize me as someone without ambition. On the contrary, I could not feel more prepared to major in Marketing at John Cabot University than I do now.
The aspirations of many of my fellow students of the Class of 2021 makes me feel part of a community that is ready to make a change. These are students who embrace their culture and themselves; I look forward to spending the next four years learning from each other and making our collective experience one to remember. At JCU, I intend to help students see the beauty of my culture as they too live out their dream of studying in Italy.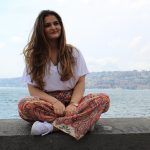 Angela Matos
Marketing major
Class of 2021
Hometown: Florence, Italy/New York City