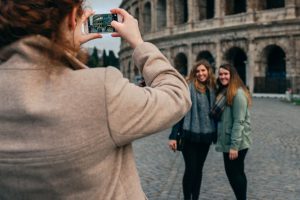 When new students arrive for the upcoming semester at John Cabot University, they can expect a lot of useful, fun, and exciting activities during Orientation Week. Starting college in a new city can be a little scary, especially for those students who will be moving across the world to attend John Cabot. But luckily, they will have plenty of guidance to help get them acquainted with life out and about in Rome, and on campus.
Every semester, a team of JCU students, called Orientation Leaders, help run a week-long Orientation full of activities and seminars to teach incoming students about the Italian lifestyle, how to get around the JCU campus, tips about living in Rome, and more. New students are divided into groups (degree-seeking students, study abroad students, ENLUS students, etc.) and follow an Orientation schedule along with other students in their group.
Regardless of what group they are in, their Orientation will cover everything they need to know about starting their new adventure at John Cabot University!
Here are a few events and tasks that students can expect during Orientation week:
JCU ID cards
One of the first things students do upon arriving at JCU is receive their student IDs. These photo IDs will give students access into their residence and the Guarini, Tiber, and Critelli campuses. There are also quite a few restaurants and shops around the Trastevere neighborhood that offer discounts to students with JCU ID cards!
Housing move-in and workshops 
For students living in the Gianicolo Residence, Viale Trastevere Apartments, Lungara Apartments, or the external apartments, a big part of their initial orientation will be the move-in process. Students will be given their apartment and roommate assignments. They will also be introduced to their RA, and will have various meetings and workshops in order to learn the rules and expectations, as well as ask any questions they might have about living in the residences, having roommates, and more. These workshops tend to be very useful especially for students who are living overseas for the first time, as RAs and housing staff go over every detail of living in an Italian-style apartment.
Placement exams
Throughout the first few days, various placement exams will be scheduled for different subjects such as: Italian, math, and English composition. Students will be notified in advance if they are required to take any placement exams. These exams assist the registrar's office and academic advisors in understanding where each student stands in these particular areas.
Free welcome meals/after-8 events
Be on the lookout on your schedule for free lunches, welcome meals, barbecues, or "after-8" nighttime events with food, either in the Tiber Café or Guarini's Lemon Tree Courtyard. These meals are a great way to get to know new students, bond with your roommates, and make friends!
Italian SIM card assistance
Orientation staff can even help you get started with an Italian phone or SIM card. This is optional, but very helpful if it's your first time living in Europe and you don't have an Italian phone or data plan already worked out.
Immigration seminars
One very important seminar that you can expect is the mandatory Immigration Seminar." Immigration staff will review the immigration process as a foreign student living in Italy. You will learn about your visa, permit to stay, and you will be accompanied to the post office, where you will submit the appropriate paperwork for your permit to stay.
Navigation 101
Navigation 101 is a fun way to get your bearings and start learning how to get around Rome. Orientation Leaders or "skippers" will guide you and your group throughout the city, showing you major historic sites, landmarks, and even explaining the public transportation system. You will walk and take buses, trams, and metros throughout the city that you can now call "home."
Advising and registration
One of the final steps of Orientation is advising and registration. The Registrar's Office will send out an email assigning students their advising appointments. Then students will be able to meet with their specific advisors, pick their class schedule, and registrar for classes!
A full schedule of orientation events can be found here.
Welcome to JCU!

Alexa Vujaklija (Shearer)
Class of 2015
Communications major
Grew up in the United States, Germany, the Republic of Georgia, Russia, and Bulgaria