Whenever I reflect back on the three years I studied at John Cabot University, I can't help but feel a nostalgic sense of excitement and think that they were such a special time of personal, academic and professional development.
My name is Christine Modafferi and not too long ago I was awarded a scholarship at John Cabot University. I moved from Calabria to Rome to pursue my passion for books. Little did I know that my experience at JCU would lead me to the beginning of my editorial career. I was mentored by fantastic professors who challenged my writing skills in class and at the Writing Center, encouraged me to further research anything that would whet my appetite, and even helped me prepare for job interviews! Not to mention the lifelong friends I made who are now scattered around the world, achieving brilliant things. I met inspiring people – students and guest speakers – through JCU's Women's Leadership Initiative, Multicultural Club, and so many student organization events.
After graduating magna cum laude in English Literature with a minor in Communications, I applied for an MA in Digital Publishing at Oxford Brookes University. I had worked as an Admissions Office Assistant at JCU, participated in many Career Fairs, and attended Professor Favorite's Business Communication class, so I had office experience and a working mindset to apply for internships and jobs straight away.
Four months before handing in my final project for my Master's, I was offered a full-time role at Penguin Random House. Just over a year later, I joined Bloomsbury Publishing (anyone heard of a wizard called Harry Potter?), where I still work today as the Children's Non-Fiction Assistant Editor. My days consist of editing manuscripts, art-directing illustrators, and meeting with agents to find new talent. I'm one of the lucky ones to say I love my job and I have John Cabot University to thank for that. The vibrant student body, the talented faculty, the many internship opportunities – and let's not forget ROME! – are what make John Cabot University the perfect place for enthusiastic young people who are finding their path.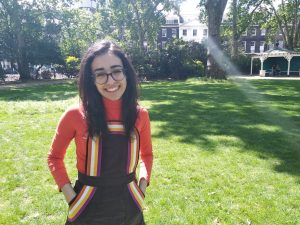 Christine Modafferi
Class of 2015
Major in English Literature, Minor in Communication
Hometown: Reggio Calabria