To our degree-seeking students from the U.S. who have just been accepted to John Cabot University starting in Fall 2016: a huge congratulations! We hope you're excited to start a new chapter of your life in what we think is the most amazing city in the world, pursuing a world-class American education.
And now, we want to meet you virtually and help you sho
w off your #JCURome excitement and pride! This Instagram contest is just for you and participating couldn't be easier:
1. Take a CREATIVE photo of yourself with the blue and white JCU pennant you received in your acceptance packet, along with something you consider "Italian"
2. Follow us on Instagram @johncabotuniversity
3. Upload your photo to your own Instagram account (make sure it is set as PUBLIC for the duration of the contest and the judging period, so we can see it!)
4. Caption the photo #JCURomebound
5. Share the photo on Instagram
Our judges will pick 3 winners for "most creative photo"; the top winner will win a free spot on our day trip to Montalcino, Tuscany; the second runner-up will win a free spot on our Eating Italy Food Tour; and the third runner-up will win a free spot in our Italian Cooking Class.
Post your photo between April 15th and April 30th! Read the official rules below for more information. UPDATE: The contest has been extended through May 15th!
OFFICIAL INSTAGRAM COMPETITION RULES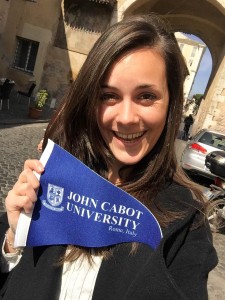 ELIGIBILITY
This competition is open only to students based in the U.S. who have been accepted as degree-seeking students at John Cabot University starting Fall 2016.
HOW TO ENTER
Entries may be submitted between 12 a.m. Central European Time (CET) on April 15, 2016 and 11:59 p.m. CET on April 30, 2016. Entries received after the entry period are ineligible for consideration by the judges.
To enter, post a photo of yourself with your JCU pennant (found inside your acceptance packet) along with something you consider "Italian" on your personal Instagram account with the hashtag #JCURomebound. Ensure that you have followed @johncabotuniversity and that your Instagram profile is set to "public" for the duration of the contest and the judging period.
By entering, you grant John Cabot University the right to share your photo on the University website and official social media channels. John Cabot University shall have the right to disqualify any entries that the University deems to be inappropriate or not in good taste.
The judging period begins on May 1, 2016 and ends on May 7, 2016. The judges will select a total of three (3) winners. The winners will be selected on the basis of most creative photo.
The winners will be notified via email in May 2016.
PRIZES
John Cabot University will award three (3) prizes. The photo deemed most creative by the judges will win first prize, a free spot on JCU's day trip to Montalcino, Tuscany, taking place September 16th (€60 value). The second runner-up will win a free spot on JCU's Eating Italy Food Tour, tentatively scheduled for October 28th (€30 value). The third runner-up will win a free spot in JCU's Italian Cooking Class, with various sessions taking place in September and October (€20 value). Read more about these trips and activities here: https://myjcu.johncabot.edu/trips/The trips/activities may not be redeemed for cash value. If the student selected declines or is unable to participate there will be no cash compensation.
AWARDING OF PRIZES
Limit one trip/activity per person. No substitution or transfer is permitted. If the potential winning entrant does not enroll at John Cabot University in the Fall, and/or does not confirm his/her participation in the trip upon receipt of the notification email, he/she will forfeit the prize and the prize may be awarded to an alternate winner as selected by John Cabot University's judges.5. GENERAL CONDITIONS By entering the Instagram competition and/or accepting the prize, entrants/winners agree to: be bound by these rules; release John Cabot University from all liability, claims, action, or proceedings relating to the Instagram competition and from injuries or damages arising in connection with or relating to participation in the competition; waive any right to claim ambiguity in the competition or these Official Rules. All entries become the property of John Cabot University. John Cabot University is not liable for injury, loss, or damage of any kind resulting from the acceptance or use of the prize, travel related thereto.