Rome, especially if you come from an American city, seems like an endless maze of twisty-turny streets just begging you to get lost within them. While this is a romantic idea, and something you should do often during your time in the Eternal City, there are some days where you have places to be and times to be there. For those days, you'll need a good handle on getting around Rome.
My family always joked about my "internal GPS" but I can tell you that it saved me, and many others, countless times getting around Rome and other cities when we had no idea where we were. I seem to have a particular sense of direction and keen observation skills help me determine the right way to go with minimal mistakes.
Not all of you may have this natural sense of direction, but a good way to improve your sense of direction is to always pay attention to your surroundings and actively observe where you are every single day. Not only does this allow you to see much more of Rome than you might have, but it also becomes significantly helpful when you walk down a small street, unsure of where you are until you remember glancing down this particular via on a different journey weeks before.
GENERAL "GETTING AROUND" TIPS
There are a few monuments and points of interest that you should familiarize yourself with that will help you understand the layout of the city. Unlike some other major cities where tourist attractions are concentrated in one or two specific areas, Rome is spread out. While this makes it great for exploring, it doesn't make getting around especially easy, and can often create long walks in between two points of interest.
Knowing how to get to some of the major points of interest is an important first step to getting around the city with ease. Make it a point to visit these places (and pay attention to how you got there!) within your first few weeks in Rome:
Colosseum
Piazza Venezia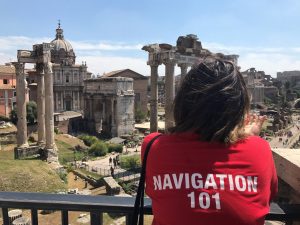 Palazzo Quirinale
Trevi Fountain
Spanish Steps
Piazza del Popolo
Castel Sant'Angelo
St. Peter's Square
Piazza Navona
Campo de'Fiori
Many of these sites will be visited during your orientation week. While on your Navigation 101 tour, ask your Orientation Leader for tips on getting around Rome!
I've listed these places of interest in an order that you could actually walk from one monument to the next. Despite the points of interest being spread out, Rome is, in fact, not a very big city, and many days I visited several of these spots within just a few hours. It can be done if you aren't in a hurry and don't mind the extra exercise! The mistake that took me too long to correct, however, was choosing the right pair of shoes to venture out in. Cobblestones are no joke! Invest in a comfortable but fashionable pair of shoes for your time in Rome.
If you're really bad with directions, consider keeping a map on you at all times. Guarini campus keeps maps of Rome conveniently located at the front office, so don't think twice to grab one (or a few) to last you until you get the hang of things!
THE METRO
With ancient Roman ruins found only a few feet below today's city streets, it's no wonder that Rome's metro system consists of only two lines: Metropolitana Linea A and Metropolitana Linea B. The lines intersect at one point – Termini train station. Each metro stop is indicated by a square, red sign with a white M on it. Single-ride tickets cost 1.50 euro each and can be used on any metro, bus, or tram within 100 minutes from when you validate the ticket.
When riding the metro, especially during busier times when it becomes very crowded, pay extra attention to your personal belongings. Some good tips are to keep a hand over the opening of your purse, which should be zipped or buttoned shut, and hold your backpack with one hand while it hangs off one shoulder.
BUSES
Rome's network of buses is intricate and extremely useful for getting around the city. It takes more time to figure it out than the metro, but once you get the hang of it you'll hop on and off of the lines like a local.
Bus stops are marked by signposts (see photo to the right) with the name of the stop, or fermata, at the top of the sign (Fori Imperiali in this case). Beneath that you will find the bus route numbers that stop at this fermata (186, 271, 571, and 810 in this case). The stops along the route are listed below the route number and the direction of the bus runs from top to bottom. In this case, if you were standing at Piazza Venezia stop (P.za Venezia) and needed to go to Largo Florentini (L.go Fiorentini), you would take the 271 for 7 stops. If, however, you were at Largo Florentini and need to go to Piazza Venezia,  (which is listed before Largo Fiorentini), you would have to cross the street to find the line that runs in the opposite direction.
Moovit is an app that I used lovingly throughout my years as a student at JCU. It shows you where the buses and trams stop, where metro lines are, but the best part is that it tells you when the next bus, tram, or metro will be arriving. This is seriously useful, especially in Rome which is infamous for its *ehem* relaxed timetable. Buses will be late. Trams won't come for what seems like an unnatural amount of time. Take a deep breath, look up at the beautiful blue Roman sky, and say "la vita è bella, I'll walk."
Otherwise, check the app to see if maybe crossing the street to catch the H bus makes more sense than waiting endlessly on the tram lines.
Remember, when riding any public transport, you must have a validated bus ticket, which can be bought from any tabaccheria or newspaper stand.
TRAMS
The tram you will most often use is tram 8, which runs from Piazza Venezia (remember that from my list of places to find?) to Via del Casaletto on Gianicolo hill.
For a map of the other tram lines, click here.
Don't forget that you must purchase your ticket before entering both buses and trams. The tickets can be validated on the bus and the tram at the small green machine located toward the front-middle of the bus/tram.
A TIP ON TAXIS
Taxis in Rome are not like taxis in the U.S. – you (usually) can't hail one on the street. You'll have to go to a designated taxi stand, indicated with an orange sign that reads "Taxi", and wait your turn if there is a line. Often there will be taxis lined up instead of people, but there are busy times, so try to always leave enough time for traffic when you need to be somewhere.
Another useful app that you should download before you arrive is IT Taxi. This app works the same as Uber, allowing you to call a taxi to wherever you are, which it knows from the location on your phone.
Always take a white-colored taxi with "Comune di Roma" written on the side, as they are the official taxis in Rome.
GETTING TO THE AIRPORT
Travel is a huge part of studying abroad, and Rome is, luckily, one of the biggest travel hubs in Europe. JCU encourages its students to take advantage of learning outside of the classroom – and just about nothing teaches you more than traveling!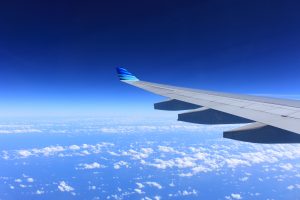 During my first year, I only went to Termini station to catch the Leonardo Express to get to Fiumicino airport. What a total waste of time! The Roma Trastevere train station, which is halfway down the tram 8 line, takes you to Fiumicino airport with only a few stops along the way. It's cheaper, only 8 euro compared to 14, and will probably cut your travel time to the airport in half!
Be sure to check which airport you're flying out of when traveling. Rome has two airports, and some discount airlines depart exclusively from Rome Ciampino airport. Getting to that airport is a little trickier. You do have to go to Termini train station in this case, but before you do that, go online to Terravision to buy a coach bus ticket online. Make sure you arrive at the train station early because, unlike the rest of Roman public transportation, the shuttle bus to Ciampino does leave on time and will leave you behind!
TAKING THE TRAIN
Italy is blessed with a wonderful rail system and has long been the most popular way to travel through the country. The network connects just about every major city in Italy, runs like clockwork, and often includes fantastic views of the countryside along the way.
Trenitalia is the website where you can book your train tickets to destinations all over Italy online. At the top right, you'll see the option to change the language from Italian to English. A new company, Italo, has great service and offers trains to certain destinations around Italy, although the destinations are more limited.
My general rule is to buy train tickets beforehand, but it is also possible to buy tickets directly from the station at the automated machines.
Once you've got your ticket and are at the station, look for a big, black hanging board with all of the trains listed. This tends to be where most crowds are standing. Don't panic if you can't find your train right away. You might be too early, looking at the arrivals instead of the departures, or taking a train that goes beyond your destination.
Here are the words to know in order to find your train:
Arrivi: Arrivals
Partenze: Departures
Binario/Bin.: Platform
Treno: Train (this is where you will find the train number that corresponds to the train number on your ticket)
Before boarding your train, you must validate your ticket. If you get caught carrying a non-validated ticket you will be issued a hefty fine. Ticket validation machines can be difficult to spot if you don't know what you're looking for, but often they can be found near your platform or in the main lobby area. They are usually small orange or yellow wall-mounted boxes where the only opening makes it obvious how to insert your ticket (all the way in and to the left!).
If you have a reservation, find the car number (carozza) and the seat number (posto) on your ticket. Locate the corresponding car and hop on. If you find someone else in your seat just show them your ticket and they will move. This is fairly common as not all passengers reserve seats.
If you do not have a reservation, the only thing you must look for is the class of the car that corresponds to your ticket (first vs. second class), and simply board and find an empty seat.
FINAL THOUGHTS
Getting around Rome is a skill that you will learn with time. I hope that my tips help to ease some of your anxiety and, remember, orientation leaders and other JCU students are there on this fantastic journey with you. Each and every one of them chose to live in Rome, to explore the Eternal City, and fall in love with it (I promise you will, sooner than you expect!).
Looking for more tips before you leave for your Eternal City adventure? Check out our Study Abroad Survival Guide!
Ciao for now!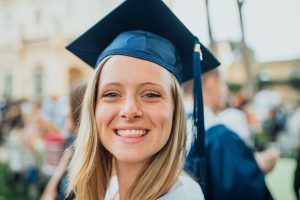 Gillian McMurray
JCU Class of 2017
Communications Major
Hometown: Chicago, USA