My journey at John Cabot University began with ENLUS, a semester-long intensive English course I attended before starting the University's courses. Although I started taking courses at John Cabot a semester after my peers, after two and a half years, I am about to graduate early with a double major in Business Administration and Marketing and a minor in Entrepreneurship.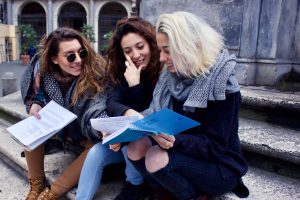 At first, knowing I had to attend ENLUS worried me, because I was afraid to fall behind with my studies. However, later on I realized that ENLUS was a great opportunity to adjust to an academic system I didn't know. Moreover, ENLUS strengthened my language skills and made me feel ready to take courses and exams in English. After a few months, speaking English with my classmates became really easy!
ENLUS is divided into three sections: pre-ENLUS, for students with an A2 English level; ENLUS I, for those who have a B1; and ENLUS II, for students like me who start from a B2. The course is held in fall, winter, and even in the summer, and students are encouraged to take part in the University's events alongside John Cabot students. They also have completely free access to the library and computer labs.
While attending ENLUS, I had class Monday through Thursday, from 9am to 4:30pm. In the morning I studied grammar and composition, while in the afternoon I practiced vocabulary, listening, and speaking. There were less than twenty people in my class, and this allowed our professors to help us individually. In addition, I attended the University's Calculus course, which allowed me to earn some credits before officially starting my college career.
After my ENLUS exam in December 2014, I started attending courses with the other students at John Cabot. Thanks to several summer sessions, I was able to catch up with my peers so that I could graduate at the same time. Now that I am graduating, I can firmly say that choosing to attend ENLUS was the right thing to do, since it allowed me to begin my college career with confidence.
Read this post in Italian!

Giorgia Maia
Class of 2017
Double major in International Business and Marketing, minor in Entrepreneurship
Hometown: Rome, Italy