The back-to-school season is an exciting time: new friends, interesting classes, clubs and activities, and finding your way around a new city. If you are an incoming freshman, study abroad student, or transfer student, one of the most exciting aspects of going back to school is moving into your first Roman apartment and decorating your room! Whether you will be living in one of the John Cabot University residences or external apartments, or in an apartment of your own, finding ways to make your room feel cozy and more like home is a fun and helpful way to start off the semester right.
At John Cabot, the Housing and Residential Life Office is a big help to students who are adjusting to their new home. Many aspects of daily life in Rome, including your apartment, can be quite different from back home, but luckily the housing staff and Resident Assistants will support you throughout the move-in process. If you choose to be housed in the Gianicolo Residence, Lungara Apartments, Viale Trastevere apartments, or external apartments, you will live in a fully equipped apartment with a kitchen, common living area, bedroom(s), and bathroom(s). This arrangement is different from the typical dorm-style rooms at universities in the United States, so decor and "essentials" might be different than back home.
Before you start packing and stocking up on household items for your room and apartment, it is important to note what will be provided upon arrival.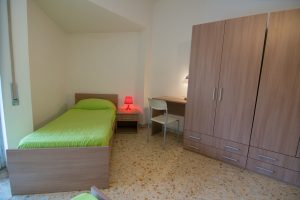 Guaranteed household items:
-2 sets of sheets
-2 sets of towels
-1 bath mat (per bathroom)
-1 blanket/comforter/bedspread
-1 pillow
-Basic kitchen supplies: pans, pots, cooking utensils, serving spoons, mixing bowls, knives, large plates, small plates, glasses, mugs, cutlery, strainer, cutting board
-Wardrobe space with hangers
-Clothing drying rack
-Trash bags for recycling
With that being said, it is important to bring other items you will need such as a hairdryer or electrical converters, and anything you would like to decorate with or to make your space feel more like home. Luckily, every semester the Resident Assistants organize a free trip to Ikea, so you don't need to bring your stuff all the way from your home country! For JCU housing students, it is a great way to have some fun by picking out extra little details to decorate their rooms. Ikea has anything you can think of, so take this chance to pick up some cozy blankets, throw pillows, kitchenware, closet organizers, plastic containers, candles, and more. Choosing your room decor will really set the tone for how you feel about your new room and apartment, and it will add a little bit of character and personality to your space.
Be sure to check with the JCU Housing Office for more details about the trip and how to sign up.
Alexa Vujaklija (Shearer)
Class of 2015
Communications major
Grew up in the United States, Germany, the Republic of Georgia, Russia, and Bulgaria